Sales
Enablement Services
It's not enough for just the marketing department to create, share and promote content. Rather, your company's entire revenue-generating machine needs to be involved.
Yep, that means sales and marketing. It means recognizing the emerging and expanding roles that salespeople play in building awareness — and, likewise, that marketing plays in helping close deals.
And it means leveraging content throughout the entire lifecycle of prospects and customers — from awareness and consideration to decision-making and beyond.
We Enable Awesome
Sales enablement is yet another one of those squishy terms that lots of marketing people love to use — often doing so with totally different things in mind from each other!
That said, here's precisely what we mean when we talk about sales enablement services:
We help salespeople improve productivity, generate more revenue and close deals faster by equipping them with content, technology and processes.
Content. Besides the two superpowers of content (blog posts and lead-generation offers), there are plenty of other ways to use content throughout the sales process, including customizable email templates targeted to particular personas and stages of the buyer's journey; landing pages specific to target accounts in your account-based marketing program; and product videos, white papers, case studies, product briefs and more.
We can also help ensure that your company's branding stays consistent across sales and marketing, adhering to guidelines and templates so that prospects enjoy the same experience throughout their journey.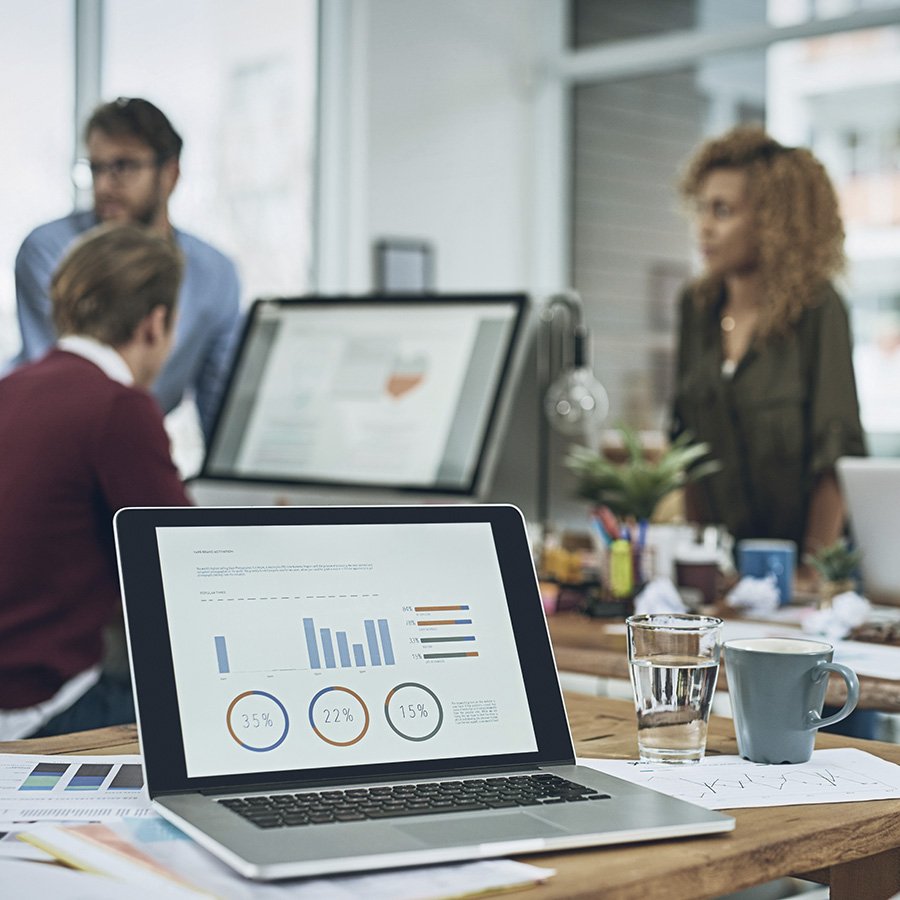 Technology. As long-time, certified HubSpot Partners, we can help train your sales team on how to maximize the CRM, irrespective of their current comfort level with technology. (We've worked with enough salespeople to know that some are, shall we say, tech-avoidant!)
We can also set up lead-nurturing workflows, lead scoring, email templates, sales dashboards, tools for social media listening, a library of easily accessible sales collateral, and other tech-related tools that empower your team.
Also critically important: We'll make sure that your HubSpot setup matches the lead definitions, workflows and other key concepts from your company's sales-and-marketing service-level agreement (SLA).
(Speaking of HubSpot: We love them, but we're not exclusive to them. We've helped many clients with other CRM platforms, including Pardot, Highrise and others.)
Processes. Achieving your goals means more than building a finely tuned lead-generation machine — it means properly aligning your sales and marketing teams through defined sales processes.
We can help define expectations around responses to sales-qualified leads, spell out what should happen when a marketing-qualified lead makes its way to the sales team, show salespeople which types of data about prospects to enter in the CRM, and much more. We can also provide coaching on communicating with prospects and customers on social media.
It's In Our DNA
Our understanding of the blurring boundaries between sales and marketing — and the critical role that marketing and content can play in supporting sales teams — is a key differentiator between us and other digital marketing agencies. And it all starts with our co-founder, Adam Weiss.
For decades before co-founding madison/miles media, Adam pioneered and managed the first successful advertorial section in USA Today; outsold Martha Stewart and Bob Villa at the height of their popularity with the use of creative content packages; and sold content packages to NASCAR sponsors.
And since the start of madison/miles media, Adam and his team have worked with countless companies — including some big names like ExxonMobil, Dell, Johnson & Johnson, and Owens Corning — to leverage content in their sales efforts.
He and his team have also helped develop sales processes for a host of small- and medium-sized B2B companies, trained them on using CRMs such as HubSpot, and coached them on incorporating content into their direct-outreach efforts.
Sales and Marketing Alignment
For many companies, collaboration between marketing and sales teams amounts to nothing more than a hand-off, where marketing tosses leads over the fence and sales runs with them. It's not exactly a recipe for success, given that there's no agreement on what a lead is.
What if the "lead" is still in the awareness or consideration stage and is not yet ready to speak with the sales team? How many leads should marketing provide? And what, exactly, is sales supposed to do with them?
Not surprisingly, this siloed strategy rarely, if ever, works well; instead, it often leads to internal friction and less-than-stellar results. What's the solution? A service-level agreement (SLA).
This document aids in:
Clarifying and aligning expectations and accountability between a company's sales and marketing teams
Defining key terms, processes and goals
Reducing confusion and provide alignment by resolving some thorny issues that are often left unaddressed otherwise
The bottom line: An effective SLA standardizes lead definitions, codifies your sales and lead-nurturing processes, and sets clear goals for your sales and marketing teams.
Now that's awesome.