We've all witnessed the mass exodus from print to online content. Perhaps you've read one of the many articles forecasting doom for print media, such as this HuffPost piece, which declares that " traditional media may be on its way out." Yikes.
So, in this harsh climate, why would giant web-based brands like Airbnb, Net-A-Porter and Uber choose to launch print magazines? Are they too big to fail? Is it brand suicide? Or … are they onto something?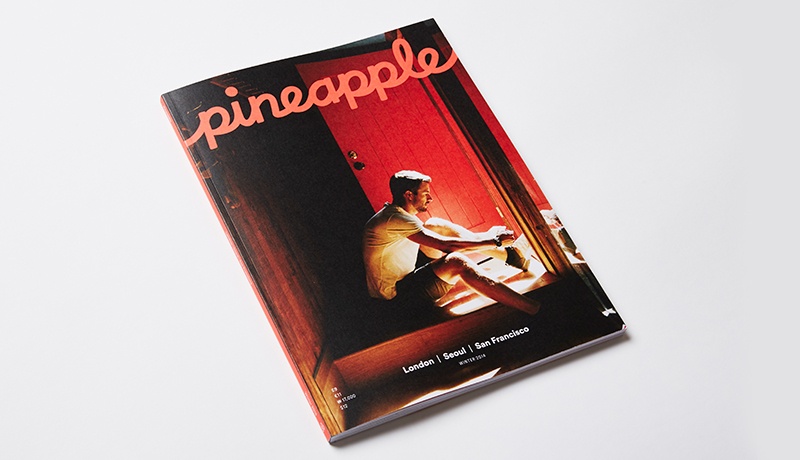 Airbnb's 128-page print magazine, Pineapple, launched in late 2014 and is distributed to Airbnb hosts.
Airbnb's publication came along with a massive re-branding effort designed to " give Airbnb an offline presence as ubiquitous as its online presence," according to Fast Company. The new brand features Airbnb's pretzel-like logo, which the company hopes will become a universal symbol of belonging, and a slew of branded print content, including Pineapple.
The magazine will be delivered free to Airbnb hosts, who will (presumably) offer them to guests as a conversation-starter. Each issue will focus on three popular Airbnb cities and provide " a crossroad of travel and anthropology; a document of community, belonging and shared space" —so says its website.
According to Contently's recent piece about branded publishing, Pineapple's mission statement meets the biggest criterion for a successful branded publication: having a laser-focused voice that distills the most important elements of its brand personality. This speaks to the fact that a brands' products and services are more than the sum of their parts — they enable a certain lifestyle.
Well-conceived print magazines capture the essence of this lifestyle, starting conversations between customers and content that will reinforce its brand's identity and its readers' trust.
Net-A-Porter's magazine, Porter, blurs the line between fashion reporting and fashion retail.
What's the advantage?
As we head into 2016, print publishing may seem retro — but the advantages of print are anything but.
Unlike digital content, magazines have a long shelf life — literally. Readers can be engaged with magazines on and off for up to two weeks, as the issue sits on their coffee table. It's still a top-of-the-funnel medium, and this protracted engagement, along with the uninterrupted attention print demands, means that readers develop a relationship with the brand that digital can't match. As Time Inc. VP of Finance and Advertising Andy Blau says, print is really " pure brand advertising."
Further, the American Marketing Association argues that the dismal circulation rates we've seen this year in print magazines are really an advantage. " That means that publications' readership has been culled to only the most engaged," they point out, which is an advantage for lead generation and advertising. Quality over quantity.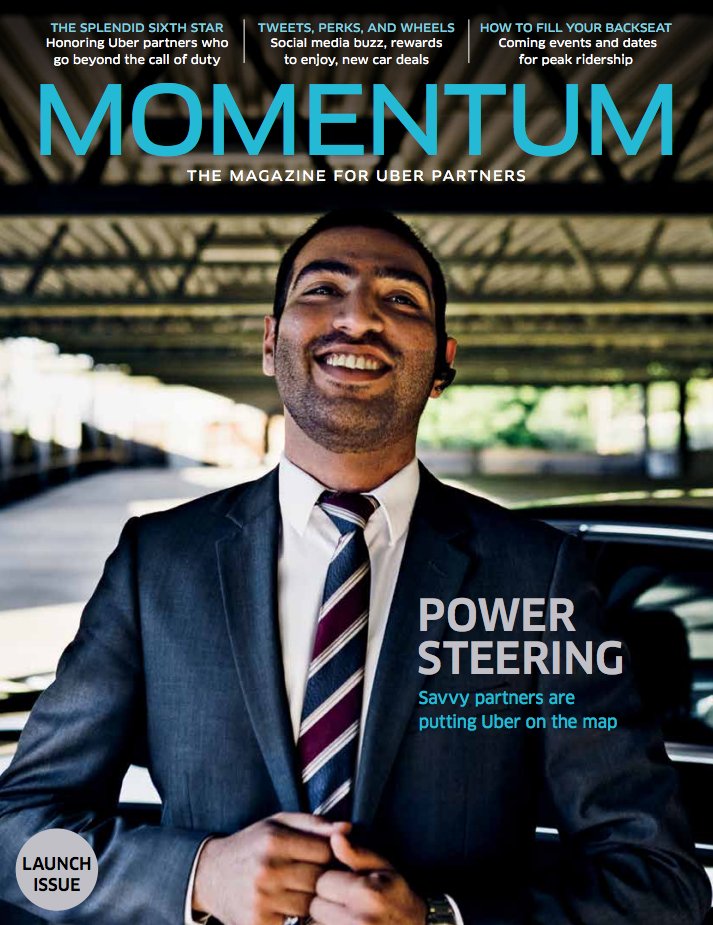 The aim of Momentum, Uber's new print magazine, is to keep the company's
driver partners invested in Uber's mission.
So will print magazines increase these companies' return on investment? Time will tell. But The Economist's global managing director of content solutions, Elena Sukacheva, has a warning: Be careful how you measure success. " Owned properties create a relationship with the brand," she said in a recent Contently article, " and probably should be measured by longer-term metrics such as brand perception, brand identity, and increased loyalty."
Magazines may not directly impact your bottom line, but there's no digital substitute for the tangible connection between readers and real print.