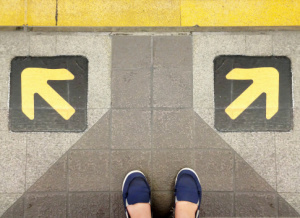 Companies looking to outsource the creation of content may be wondering: Should we open up bidding to content marketing agencies or offer the work to our usual ad agency?
Both agencies are crucial for attracting customers, but each has specific strengths. According to the Content Marketing Institute, "most ad agencies aren't built for consistent, long-form content creation and distribution."
Traditional advertising agencies plan and execute advertising and other promotional campaigns suitable for various media (print, radio, television, etc.), whereas content marketers create and publish valuable information on a consistent basis. Ad agencies have short-term goals, "rent" media and aim to sell to customers; content marketing firms have long-term goals, "own" media and communicate with customers without the intention of selling.
Temporary vs. Long Term. As far as time span, ad agencies typically have a series of truncated deadlines depending on the type and number of campaigns they're producing — their goal is to make an immediate impact. Content marketing, on the other hand, is an ongoing process that could potentially continue for the life of the brand — the purpose is to establish the brand as an industry leader and form and develop an ongoing relationship with customers.
Renting vs. Owning. One of the biggest differences between ad and content-marketing agencies is where they stand with ownership of the media. Ad agencies turn to other, well-established media in print, radio, television and digital and rent space from them. While that gives advertisers a powerful, preexisting platform from which to promote campaigns, there's no ownership of media. Content marketers, however, are the media: they publish custom magazines, websites, video, etc. on behalf of their clients. While these custom pubs may not reach the large audience of consumer publications, the content is generally received better than advertisements (which customers have grown wary of).
Selling vs. Storytelling. The goal of advertisers is to encourage and influence sells immediately; content marketers tell stories about their client's brand and expertise. Most consumers chafe at the idea of being sold to — perhaps that's why they've become more receptive content as opposed to the hard sell of advertisements. (Even subtle native advertising is having a tough time gaining ground.) Engaging, integrated stories are a prime vehicle for building customer loyalty, strengthening relationships, and positioning brands as thought leaders, with the eventual goal of increasing profit.
Additionally, the creative talent at each agency varies. Good content starts with journalistic integrity. Typically content marketing agencies will have established relationships with professional editors and print journalists, while ad agencies may only have copywriters in their back pocket.