When I was hired as a Creative Specialist at madison/miles media, I was familiar with traditional marketing, email marketing, content marketing, journalism, copy editing, copy writing … you get it. The list of freelancing odd jobs I did goes on and on. But inbound marketing was completely new to me.
In order to get my toes wet, I signed up for HubSpot's Inbound Certification. And let me tell you — my HubSpot certification was worth it. Like, so worth it. I learned all the ins and outs of inbound marketing in just a few weeks and felt ready to actually start doing inbound marketing on my own once I was done.
The program didn't feel rushed, and I felt like I had mastered the core concepts of inbound marketing even though I was brand new to this world. Here are the main reasons why you, too, should get inbound certified.
1. It's free.
First and foremost, the primary reason you should get inbound certified is because it's free. Yes, you heard me correctly. 100% FREE. You don't have to be a HubSpot customer to do this certification. Those new to the inbound marketing world will learn everything they need to get started and those who already do inbound marketing may even pick up a few new tricks.
The course is even beneficial for people who don't work strictly in inbound marketing, such as freelance writers, journalists and content marketers. The certification will teach you about various components of inbound marketing that will help in all aspects of your career, from how to market your content on social media to how to write clever, interesting and delightful blog posts.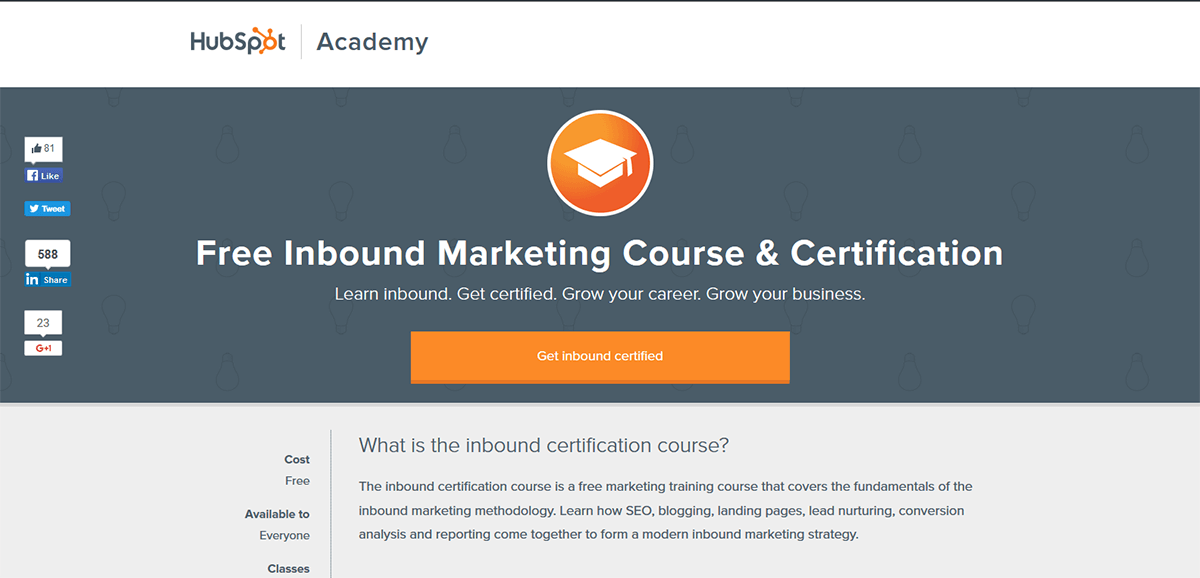 2. It'll help with your job search.
For those (like myself) who do freelance work, having a variety of skills is imperative. Why would a company hire someone who just writes and edits when they could bring on someone who writes, edits and has a knack for social media and SEO? If you're a freelancer or are job searching, get inbound certified on HubSpot immediately. The class will give you a one-up on other applicants and will be an impressive addition to your resume.
Also, once you pass the class, HubSpot provides an "Inbound Certified" badge (which lasts 13 months) that you can add to your email signature, LinkedIn profile and website so you can show off your new knowledge.
3. Hello, video!
If you're an editor and writer like me, you spend most of your days staring at words upon words upon words. Don't get me wrong — I love to write and edit. But every so often, my peepers need a break. Every class in the Inbound Certification (there are 12 total) features a compilation of videos that teach you about inbound marketing. Instead of just reading about the concepts covered, you can see examples of how companies might use them.
I genuinely enjoyed learning via video in this certification. (Oh, and a bonus: HubSpot regularly updates the videos so if you get re-certified a year or two later, you'll have fresh new content to watch.)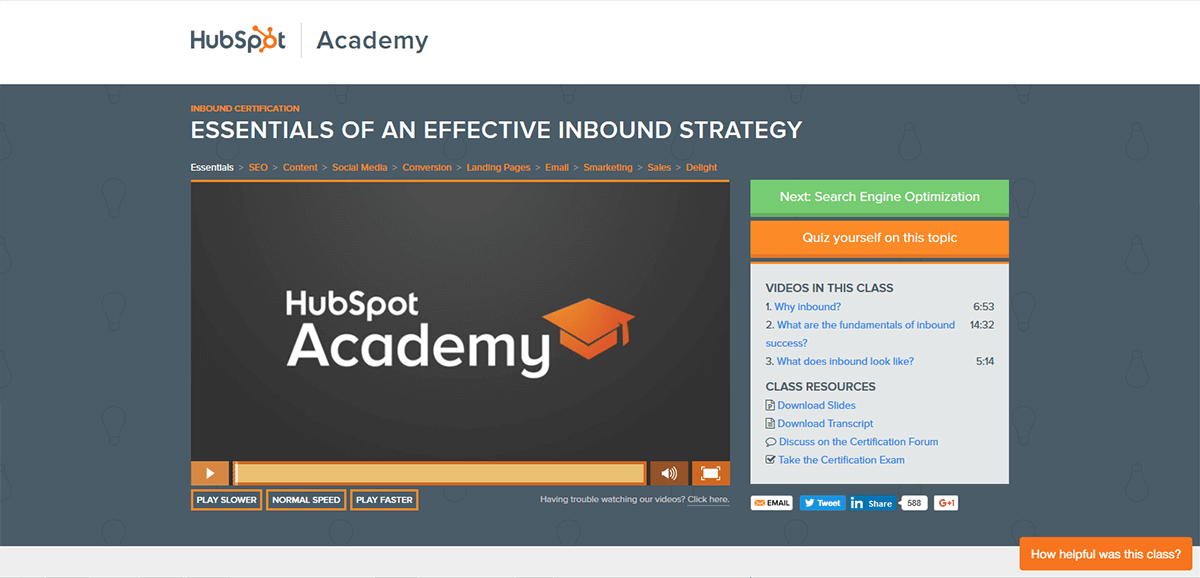 4. It's a great networking tool.
One of the wonderful aspects of working in inbound marketing is that the community is full of passionate, involved and helpful people. While learning the core concepts of inbound marketing throughout my HubSpot certification, I regularly read articles and participated in discussions on Inbound.org. I found this platform to be a great space to connect with others in inbound marketing, as well as a great supplement to my Inbound Certification.
Completing the Inbound Certification gave me something to chat about with others about on Inbound.org.
5. You'll always have the content.
Not only is the class free — the content is also yours to keep forever. Need to re-watch a video to learn about a concept you're struggling with? Watch it as many times as you want. Need help creating a landing page for your company? Print the class manuscript so you can thumb through what was covered as a refresher.
The HubSpot Inbound Certification content is always yours. Once I became inbound certified, I found myself regularly referring back to my materials at work to make sure I was incorporating best practices at madison/miles media.
6. It holds you accountable.
Let's be honest. If it were up to me to watch 12 different in-depth videos about inbound marketing and then take a test at the end, I'd probably fail. I'd forget things, space out during longer videos or even skip around. But the HubSpot Inbound Certification doesn't let you do that. After each of the 12 classes, you're tested on the concepts you learned in a short quiz.
This might seem tedious and unnecessary, but it's not. Once I actually took the certification test at the end, I felt as though the quizzes had prepped me enough. I remembered the concepts I had more trouble with (hello, "smarketing") and was able to spend more time studying the ideas covered in that class. Also, as cheesy as it sounds, passing each quiz felt like a small little accomplishment I hadn't felt since I was in school and had to take quizzes regularly.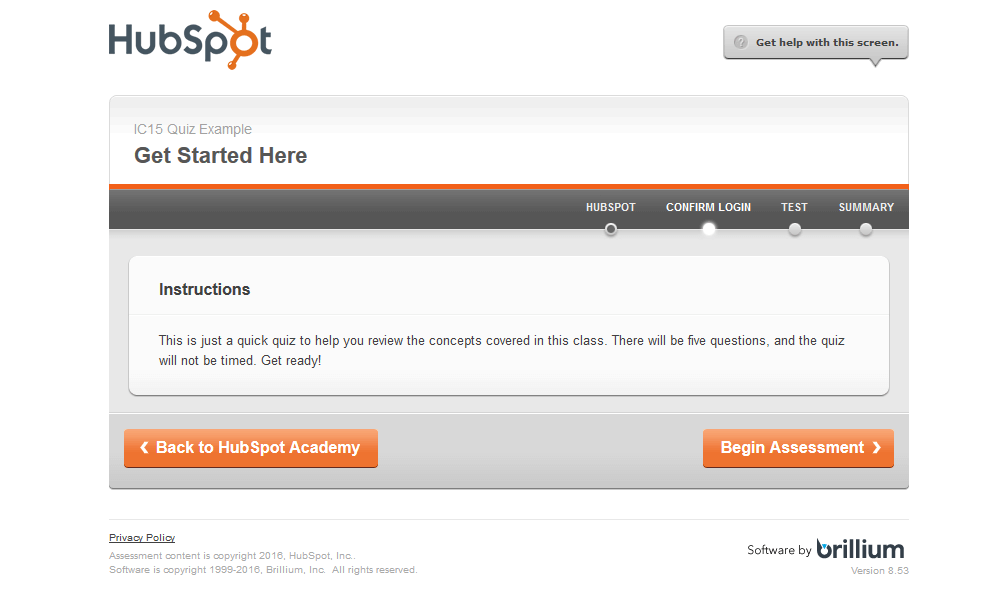 7. It's up to date.
As I mentioned earlier, HubSpot regularly updates its certification classes so you're learning about the most recent trends in inbound marketing. So even for those inbound marketing pros out there, it may be worthwhile to get inbound certified, especially if you haven't done much continuing education over the last few years. Sure, you'll probably know the basics (a.k.a. the anatomy of an effective Call to Action) but you may not know about the latest trends in social media or SEO.
Also, my one last piece of advice: Don't get scared away by the test portion of the certification. I'm the poster child for avoiding tests — one of the reasons I studied English in college was because I'd rather write a 20-page paper than take an exam. But HubSpot prepared me enough in the classes and quizzes leading up to the test that I didn't feel intimidated at all. You're given 75 minutes to answer 60 questions and you only need a 75% or higher on the test to pass. Easy peasy, right? An even if you fail, you have three chances to take the test and no one is the wiser — you'll still get the badge at the end.
Now get your toes wet like I did and try class 1: " Essentials of an Effective Inbound Strategy." You won't regret it.