If you use social media as an inbound marketing tool for your business, chances are you have a presence on Facebook, Twitter and LinkedIn. (And if you don't have one on those three, you probably should.) But there is one you platform might be missing out on. One that has a whopping 300 million monthly users.
Instagram is the place for inbound marketers to be if they want to grab the attention of their audience on a captivating, image-driven platform. In fact, 85% of top brands use Instagram, according to HootSuite.
Despite being the ripe age of 25 years old, I only recently joined Instagram. I thought the mobile app was primarily an outlet for teenagers and college kids to post photos of themselves at the gym or at parties.
I couldn't have been more wrong.
To my surprise and delight, nearly all of my favorite brands have Instagram profiles, as well as my favorite publications (shout out to Nat Geo. Best. Instagram. Ever.).
Let's be honest, though: Instagram isn't the ideal inbound marketing platform for certain industries. If you don't have a visually pleasing set of products or services, Instagram probably isn't the platform for you. The social media platform lends itself best to bright colors, unique imagery and "fun" things. People generally don't want to see a computer hard drive or extermination equipment, for example.
But aside from a handful of not-so-visually-pleasing industries, Instagram is an essential platform to be on in today's changing marketing landscape. In fact, a whopping 30 billion photos have been shared around the world to date on Instagram. Talk about grabbing your audience where it is.
Follow these tips to ensure you're sending your followers highly optimized content and properly using Instagram for inbound marketing.
1. Post often and stick to captivating content.

As with most social media platforms, it is crucial to know how often to share content with your followers. You don't want to be overly aggressive, but you also want your presence to be regularly seen. Posting one photo every day, or one photo every other day, is a good goal to aim for. And don't stress out over consistency — if you typically post content every other day but don't have anything enticing or exciting one day, just skip it. It's better not to share content than to share something mediocre.
2. Share content with faces, and use variety.

In order to effectively use Instagram for marketing, you must know what type of content you should post. Remember: Every post should be visually pleasing. Also, you should incorporate variety into your posting. In order to keep your audience captivated on Instagram, you should post a mix of content.
Some posts should feature your company's actual products, while others should feature your company's culture (i.e. pictures of your staff at work or people using your products). If it fits, you should also try to incorporate humor and wit every so often. Check out Warby Parker for an example of a company that posts content with the perfect amount of variation.
Instagram photos with faces get 38% more likes. Remember that statistic when you've posted a myriad of product or landscape photos and want to see a quick uptick in user engagement.
Instagram allows users to post videos as well. While videos can be effective ways of marketing your product or showing off your unique work culture, use them sparingly. Typically, videos see lower levels of engagement than photos.
Always remember: Photos that evoke emotion (be it sadness, delight or humor) see higher levels of engagement. Take, for example, these posts from Nike and Virgin America.

3. Use three to four hashtags per post.

This step is critical for inbound marketers who want to gain customers and leads using Instagram. In fact, posts with at least one hashtag see 12.6% more engagement than those without hashtags, according to HootSuite. You should always include hashtags in your posts. I recommend only using three or four — anything more than that is cumbersome for the reader, and anything less feels unnatural.
Hashtags allow companies to draw users to their profile in order to see content that fits their needs. For example, a shoe company might insert the hashtag " #leathersandals" into their post into order to draw in users who are looking at photos of leather sandals on Instagram. More established Instagram pages typically don't need to use hashtags because they already have a wide audience, but companies new to the social network can grow their follower base exponentially by using them.
4. Write a fun bio, and link to your site.

Make sure you have a quippy, informative bio on your profile. Many times, your bio and photograph are the first thing followers will see. Your page's bio should explain what your company is while also having a bit of humor or wit, if it's appropriate. For inspiration, check out the bios of Amazon, Pop Chips and Talenti Gelato. All three brands clearly explain what their product is, but they also do so in a fun, fresh way.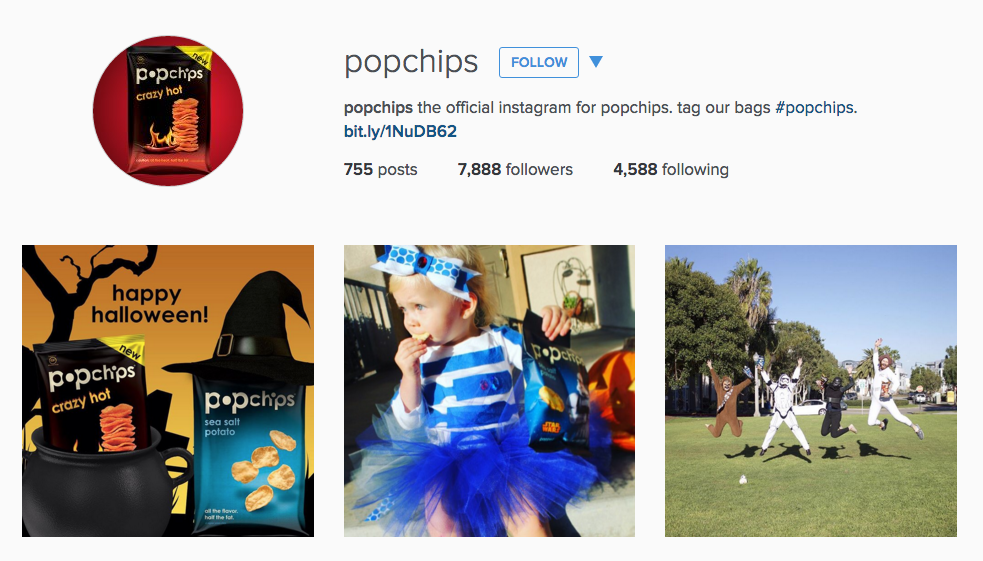 Remember to link to your company's website in your bio. Common Instagram practice is to refer followers from posts to your bio in case they'd like to see your website, so it's imperative to have a link to your site there. Most brands have a parenthetical statement that says "Link to website in bio" in their posts.
5. Use discretion when choosing filters.

Filters are by far my favorite talking point in this list. Who doesn't love flicking through the selection of filters to find the perfect one? While it may seem inconsequential to spend excess time choosing the right filter, it can help you create a refined, consistent and curated Instagram page that people will enjoy visiting.
Choose filters that fit your audience as well as the type of content you're sharing. If you plan on featuring faces and people frequently, filters such as Valencia, Sierra, Rise and Ludwig typically look best. If you plan on featuring outdoors or nature scenes, Mayfair, Hudson and Amaro are my favorites. And if you plan on featuring more dramatic, artistic scenes, filters such as Lo-Fi and X-Pro II are your best bet. Bonobos has a great handle on when to use which filters.
6. Tag key players in the industry.

Tagging is another critical component for creating posts that attract more followers and get more likes. Think of as many unique ways as possible to connect with others in your industry on Instagram. Posts that have another user handle in the caption see 56% more engagement. If that isn't proof enough that tagging is effective, I don't know what is.
Tagging is the perfect opportunity for inbound marketers to connect with key industry influencers in order get Instagram followers quicker. Check out this example from American Express:
When tagging others, also remember to include a location for your post. According to HootSuite, posts with a location see much higher levels of engagement.
Each day, an average of 70 million photos per day are shared on Instagram. If that isn't incentive enough to join the social media network, I'm not sure what is.