Your site has plenty of data from Google Analytics. You know your way around the numbers. But how do you translate this knowledge into action, and make your site perform better? Here's a helpful primer on using this powerful data to increase visitor engagement.
1. Understand Your Intentions and Goals.
It's not enough to make your web pages and assume everything will work itself out. You must know what actions you intend your users to take. For every page, you should be able to identify what the goal/purpose is, and what action should be performed next.
However, keep in mind that users will be in different stages of the buyer's journey when they visit your site, as such, will have their own intentions for visiting your site and what they're looking for. You need to have your own plan in place to accommodate users at every stage.
Basically, understanding intentions for your website allows you to successfully guide users and take them where they need to go — whether that's reading more information, contacting your team, or checking out your blog and resources.

Behavior Flow in Google Analytics can help you compare your intentions with reality, and should you think of your users' journey in the same way. I might think: Users who browse our services should go to our portfolio next, or Users should read " about us" before contacting us. Make a plan for every page, and for every users' purpose on your site. Then come into Google and highlight paths so you can check if things are matching up!
2. Identify Problem Areas.
Okay, so you know what people should be doing, but what are they actually doing? This is where your data will come into play. If you aren't sure where to find what you're looking for, take a quick look at my quick guide to Google Analytics as reference. Here are a few examples of problems you may find, and where in Google Analytics you would identify this:
Users view a page, but don't go anywhere next. You'll find this in the "behavior" area — your page is getting views, but the drop-off rate (or "bounce" rate) is over 75%. Yikes! (For more information on bounce rates and understanding what numbers are "good" or "bad," I recommend this article by Rocket Fuel.)
You're not reaching your correct demographic. Google has a demographics section specifically for this; you can segment them by age group and gender to see how they're using your site.
You get few referrals from social media. You'll see this in your Acquisition Overview. Clicking on " social" will also show you the percentage that's coming from each social media channel. If you know you're actively posting links, but few are clicking, start researching what you may need to do different.
Users go to your contact form, but don't fill it out. You can easily spot something like that by comparing how many hits the page gets versus how many submissions/calls you actually receive, or by the hits on the contact page versus your thank-you page (if applicable).

For the sake of example, one problem we decide to (fictionally) investigate is if we're reaching our target audience. We head to our demographics (under " audience" ), and segment by age group and then gender. Let's say our target group is female — in this case, that makes up most of our new sessions, so we're doing well there. But check out the bounce rate. Is it too high? Maybe not on its own, but a higher percentage of our target audience is bouncing over those who aren't our audience; that might be worth looking into. It would suggest that we're attracting the right crowd, but not doing as well at keeping them around. I would definitely grade this as " needs improvement."
3. Not All Pages Are Created Equal.
Keep in mind that depending on its purpose, not every page will provide equal "success." That's OK! There are many reasons for this, including:
Blog posts may have a higher bounce rate because users are not interested in anything beyond reading the latest post.
Forms may appear to have a high bounce rate if they're submitted on page, versus redirecting visitors to a thank-you page or giving them things to do next.
Other informative pages may have a higher bounce rate if users find it through an online search, get the answer they need, and leave.
Some pages should have lower bounce rates (40-50% is pretty good on average). For example, your homepage should be redirecting users to whatever they came to find — is it?
For these reasons, I encourage you to pay more attention to individual sessions, page performances, and behaviors over general numbers applied to your whole site.

BookBaby has a great design for their blog. Recognizing that people are browsing are looking for information — not their services — they removed their normal navigation altogether. They replaced it with their blog categories, grouped by crystal-clear titles: " How to Write," " How to Self-Publish," and " How to Promote." Users coming to their blog with a purpose will find what they need with ease.
4. Brainstorm solutions.
Now that you know what's wrong, it's time to figure out how to fix it.
Here are some possible solutions for the previous examples:
If users don't go to the next page you want them to visit: Is your prompt obvious, or hidden in a subtle link or overlooked sidebar? Consider moving it or creating a larger graphic call-to-action instead. But don't forget they have to want to go to that next page. Have you given them a good reason to do so?
If they aren't filling out your contact form: Is your form too long? Are you using uninspired verbiage like " submit" instead of action-orientated language (such as " Send, Please!" or " Get Help" )? Does it ask too much personal information without explaining why? People may be hesitant to commit to giving a lot away if they aren't ready and their time is limited. Consider making the form simple and short, and only asking for more information after you've built up a rapport and interest. Alternatively, consider creating two different forms: one for those who want to request more information (simple), and another for those more committed to receiving an actual quote or consultation (more complex).Your website should be able to direct them to the proper form based on where they've come from, and which group they likely fall in. For instance, if they're reading lots of your blog posts, they may be interested in a simple form to ask a few questions versus someone browsing your site and services intently, who may be more likely to commit.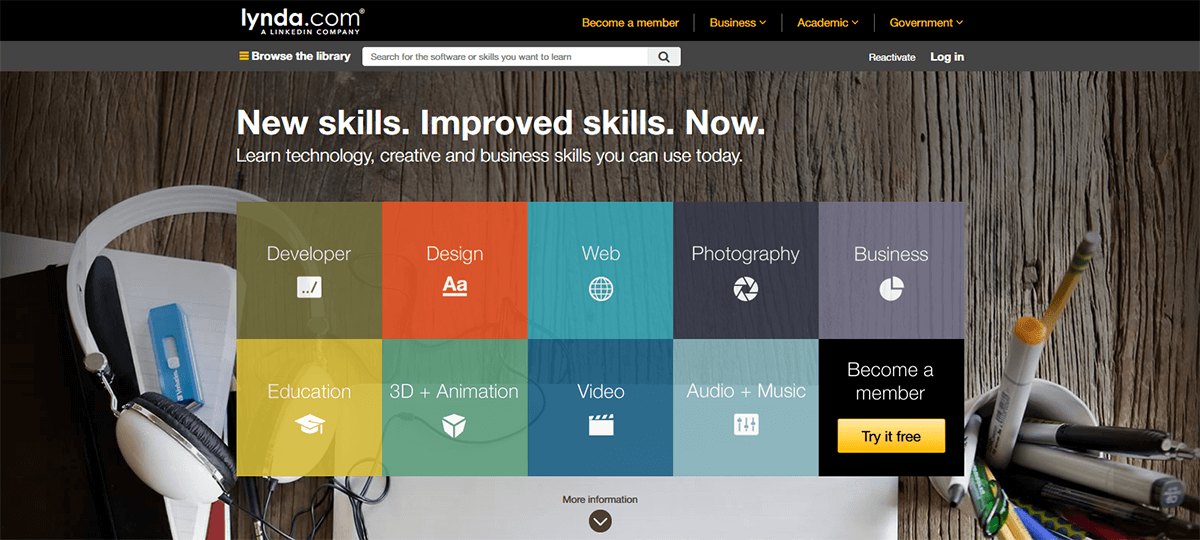 Lynda.com provides a great example for guiding an audience, with two major components here. On the top bar, users can select based on the type of membership they're looking for (business, academic, government). Below on the homepage, they have large graphics indicating the sections of classes available, making it easy for users to get what they need.

5. Implement One and Test.
Generate multiple solutions for each problem area you find. Implement one and give it time so you can fully observe its effectiveness. If it's not working, or not working as well as you'd like, try one of your other ideas. Again, you need to give it time to really see if it's having any impact. Sometimes you might want to combine the most effective, and if none of your ideas help, take a more serious look at your site. Is the design failing? Is your content confusing or unclear?
If at all possible, give your updated pages to a few people to test and ask for their feedback. Getting fresh sets of eyes — ones who don't know what results you're looking for — will provide honest insight on the effectiveness of your page or site. The data of your analytics tells you what people did, but only people can tell you why. So ask them! The " why" is important to identifying faults and weaknesses.

If you don't have time to fill out a long form, neither do your customers. If your forms aren't getting submissions but are getting views, try removing a field or two and see if it performs any better.
6. Repeat!
As time goes on, things will change and evolve — technology, trends, your customers — so make sure your website is changing with them. Meet your users where they are today, not where they were two years ago. Keep an eye on your analytics, and when it's time to make improvements … well, you know what to do! 🙂