If you're new to Google Ads and the world of paid search advertising, the amount of information out there can be overwhelming. There are countless tips and tricks floating around the internet, but we've found that a few simple and thoughtful suggestions go a long way.
Businesses looking to get started or improve their Ads campaigns might be surprised how simple it is to create ads, improve conversion rates and decrease cost per conversion. We'll first explain the inner workings of Ads, then provide suggestions for organizations looking to better use Ads and save more of their budget.
How Does Google Ads Work?
Advertisers bid on and compete for certain keywords in order to have their clickable ad displayed in Google's search results. Advertisers select the keywords they want to bid on and specify their cost-per-click (CPC) bid within the Ads platform.
When a searcher clicks on the ad, they're directed to a landing page. The landing page may collect the user's contact information using a landing page form or provides a place to purchase products.
How does the Google searcher reach that ad?
First, someone uses Google to enter a search phrase. Let's say they enter the phrase "best wedding photographers in Arlington." This Google user has a problem (i.e., they are looking for a high-quality wedding photographer in Arlington.)
Google will then show the user organic search results and paid search ad results. Search ads are typically listed above organic ads and closely match the user's query. They are easily identifiable by the small tag that says "Ad" on them.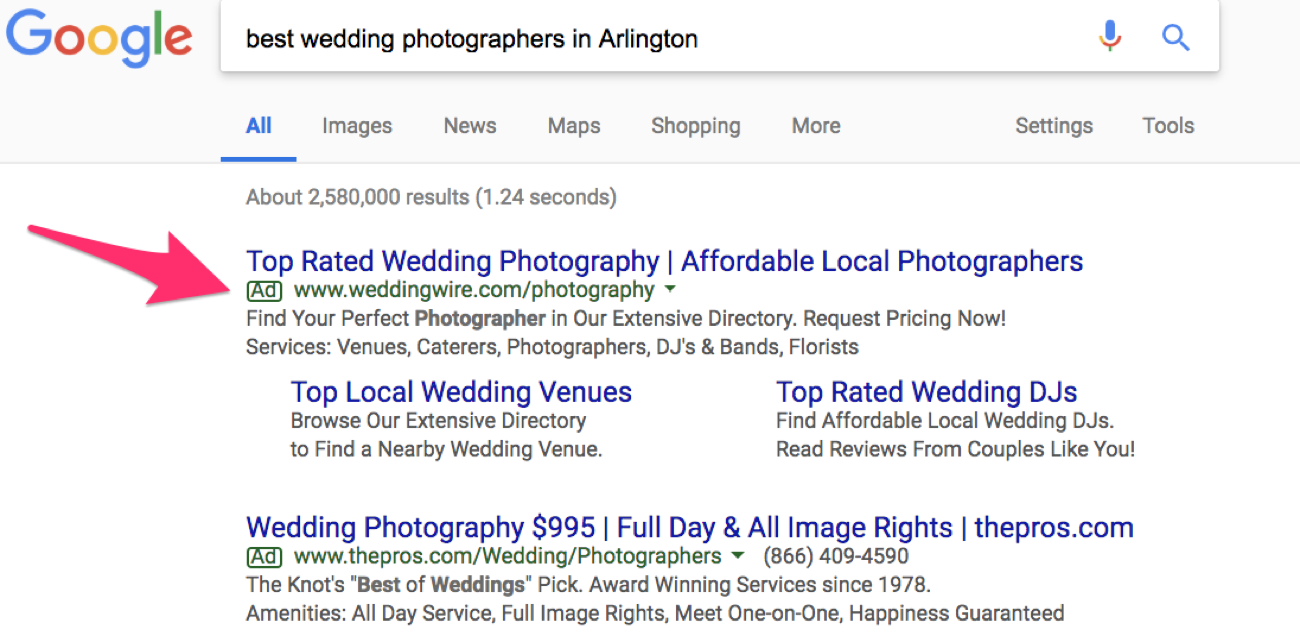 If the ad's content is relevant and seems to provide the answer the user is looking for, they will click the ad. The advertiser will then pay a certain amount (on a CPC basis) each time a searcher engages with their ad.
How to Create Compelling Ads
Users come to Google because they need answers for a question or problem.
The first step towards creating compelling ads is identifying your prospects' questions. Make a list of the questions that your prospects would have at all stages of the buyer's journey (awareness, consideration and decision stages).
For example, the above search query was probably from a user in the research stage. Once they have identified top wedding photographers in Arlington (and are thus in the consideration or decision stages), they might ask different questions — perhaps about pricing, reviews or testimonials.
Group similar questions together and prioritize questions according to "likelihood to close" using your buyer personas. Keep in mind the unique dialect of your audience when you're writing your questions. For example, would your prospects use honor or honour? Pop or soda?
As for the content of your ads, users are most likely to click on an ad that promises an answer to their search query. Your corresponding landing page should provide the answer or offer the answer in downloadable content.
Most importantly, your search ad should lead to (and provide the user with) valuable, relevant and high-quality content. Ultimate guides, e-books and other comprehensive materials perform well and result in high conversion rates. If you have an SEO agency, have them send you a list of the targeted keywords they've made for your website. These keywords are a great place to start when creating ad campaigns.
Optimizing for Conversions
The two greatest challenges with Ads are optimizing your ads to increase conversion quality and decreasing the cost per conversion.
Here are our top techniques to increase conversion quality:
Add high-volume keywords
Increase campaign radius/area
Increase keyword bid
Broaden appeal of ads
And, our most effective techniques to decrease cost per conversion:
Decrease bids on low-performing keywords
Decrease bid based on radius (farther away = lower bid)
Increase relevance of ads by turning off irrelevant searchers
You can also use your Ads findings to further define your buyer personas (and, by extension, improve your ads). Look for common phrases, keywords and search terms and identify negative keywords. Then, determine the conversion rate for each buyer persona.
All Ads users, including local businesses, can make a few Ads improvements that take five minutes or less to implement:
Add a negative keyword
Add a positive keyword
Create or improve an ad
Alter a landing page
Common Google Ads Mistakes
Finally, through trial and error, we've identified a few Ads mistakes that newcomers often make.
Do:
Create a marketing playbook with buyer personas and differentiators BEFORE launching your Ads campaign.
Be patient. It takes 2-6 weeks to determine the effectiveness of campaign changes.
Test. Ads has some of the best split-testing tools available.
Don't:
Skip tracking. Conversions are the best way to measure effectiveness.
Be intimidated. Narrowly focused campaigns are more than likely profitable.
It's easy to become bogged down and overwhelmed with information about Ads. Keep it simple, stick to the basics and utilize the amazing features that Ads has to offer.
Join Our Next HUG Meetup!
This is a recap of the presentation that was delivered at our last HubSpot User Group (HUG) event. Join our next meetup for more marketing strategies, amazing networking opportunities and delicious food. We'll be talking about the role that design plays in the buyer's journey and how to target your buyer personas through tailored designs. Register now and get a chance to win a free landing page design — worth $500! All attendees will also get a copy of our awesome Inbound Marketing Comic Book! We look forward to seeing you there! 
{{cta('7d1f68a3-489a-44ce-ae31-175c1fcaa8c8′,'justifycenter')}}