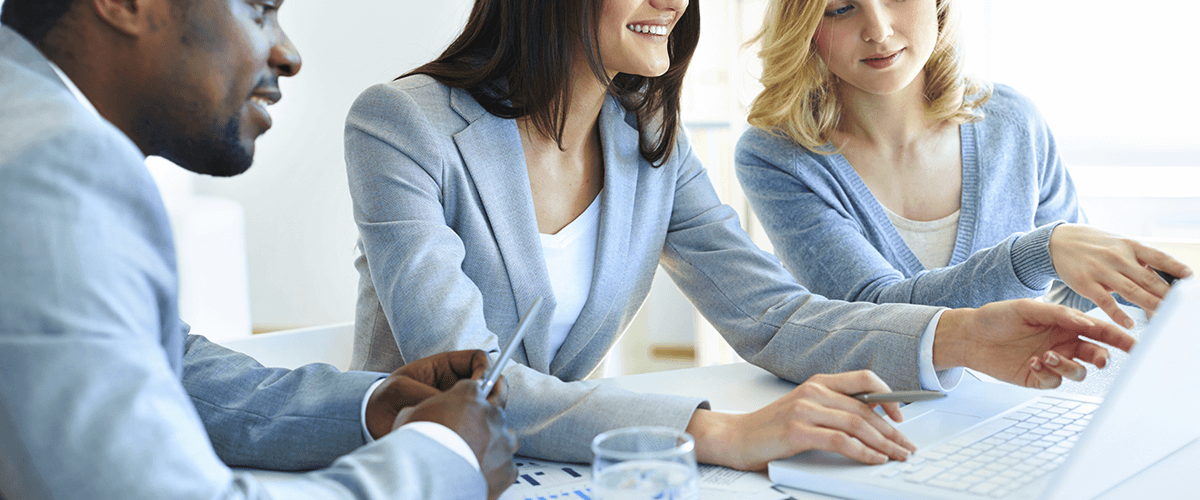 Did you know that visitors to your website assess its usability in just a few moments? In fact, the Website Standards Association reports that visitors judge whether to stay or leave a website in just 10 seconds.
Usability is arguably the largest factor in making visitors commit to a webpage — and, therefore, it's a huge factor in generating leads, making sales and fostering loyal customers.
What's the Point?
In an ideal world, we would all hire focus groups to tear apart our websites before going live. But in reality, most of us just have our own staff, and maybe an intern or two, to test our webpages for obstacles and errors.
A usability test allows your testers — internal, inexperienced or otherwise — to stick to standards for evaluating your site. If you can pass the usability test, you'll ensure that more of your visitors stick around after those pivotal first 10 seconds.

What Is Website Usability?
Website usability is a measure of how easy your site is for visitors to use. The goal of high usability is to make your site a simple and seamless experience for your visitors. Visitors shouldn't need to think about using your site — they should be able to look past the design and focus on the information they want to know.
Though we like to prioritize sleek design and pretty visuals, the best design disappears into the background in support of the content — the real reason your site exists. Usability aims to make this happen.
There are five components to usability, as defined by the Nielsen Norman Group:
Learnability. How easy is it for visitors to use your website for the first time?
Efficiency. How quickly can visitors perform the tasks they set out to accomplish?
Memorability. How easy is it for visitors to recall the design of your website after a period of absence?
Errors. How many errors do visitors make when using your website? How severe are these errors, and how easily can they recover from them?
Satisfaction. How satisfying is it to use your website?
If you've ever encountered a terrible website, you'll know how important these components are to the website experience. Take the Yale School of Art website, for example. Perhaps intentionally (no Ivy League art school could do this on accident, surely?), their website violates every single usability criteria.

The site has inconsistent navigation, confusing links and text, overwhelming graphics and constantly changing design. Needless to say, using this site is unsatisfying at best, frustrating at worst.

How Do I Pass the Usability Test?
In the early days of the Internet, way back in 1995, a software engineer named Jakob Nielsen developed the first comprehensive list of heuristics for improving web usability. These heuristics are broad rules of thumb that can be boiled down to four categories that support the components of usability:
Accessibility
Identity
Navigation
Content
Accessibility
In order to reach the broadest possible audience, your website must be highly accessible. You must cater to people of all physical and technological capabilities.
An accessible website will meet the following usability criteria:
Font size and spacing is large enough that text is easy to read.
Contrast is high enough that text is legible.
Site load time is reasonable.
Flash and add-ons are used sparingly.
All images have appropriate alt-tags.
Your site has a custom Not-found/404 Page with navigation options.
Identity
Visitors should be able to identify your company and the website's purpose in just 10 seconds, or they might decide your site is useless and navigate away
A website with consistent identity will meet the following usability criteria:
The company logo is prominently placed.
The tagline makes the company's purpose clear.
There is a clear path to the company information and contact information.
The homepage displays relevant, purposeful information.
Navigation
Confusing navigation poses an obstacle between visitors and the information they want. To maximize a visitor's chance of finding what they need on your website, your navigation should be clear, concise and consistent.
An easily navigable website will meet the following usability criteria:
The main navigation is easily identifiable and consistently placed.
Navigation labels are clear and concise.
The number of buttons or links is reasonable.
The company logo is linked to the homepage.
Content
Content is the heart and soul of any website, and the entire reason any of us have visitors to begin with. Clunky or buried content is useless content, so focus on making yours available and attractive.
A website with strong content will meet the following usability criteria:
Major headings are clear and descriptive
Critical content is above the fold.
Styles and colors are consistent throughout the site.
Ads and popups are unobtrusive.
Main copy is concise and explanatory.
URLs are meaningful.
Page titles are explanatory.

What Does a Usable Site Look Like?
If your website meets each of these heuristics, it passes the website usability test! But add up all of these criteria, and what do you get? A site that's more than the sum of its parts.
The Mint money management website, for example.
This webpage exhibits superior accessibility, identity, navigation and content. It loads fast, all of its images have alt-tags and the text is easy to read. The logo is prominent and the site is secure, professional and credible. With only three links on its consistently placed navigation menu, I can find whatever I'm looking for no matter where I end up. And, lastly, their most important content appears right on the homepage, above the fold in concise and explanatory bites.
This site passes the usability test. Will yours?{{cta('e38d9016-a5dd-4540-8836-7e7062dfcd55')}}