What's your story?
Trickier still, what's your company's story?
In the world of marketing, the ability to tell a compelling story is everything. Indeed, a knack for storytelling has again and again proven the hallmark of stellar content marketing campaigns.
Looking for a little inspiration for creative ways to tell a story – your brand's story? Check out four brands that have nailed storytelling in creative, unexpected ways.
Lesson #1: Don't be afraid of " storytelling to scale."
Many of us at madison/miles have a serious sweet tooth, so we were already fond of Mondelez International's Cadbury Creme Eggs and other treats. But Sonia Walker, who heads Mondelez's marketing in Europe, gave us plenty of other reasons to love her company.
In 2013, Walker launched what turned out to be a wildly successful Facebook campaign for Cadbury Cream Eggs, where individual posts came together to create a narrative thread. To promote the campaign, Walker used a combination of paid and viral content on Facebook, realizing a 20% increase in purchase consideration — the same increase realized via television commercials, but at one-third of the price.
That campaign drastically shifted Walker's social media strategy, and she later forged a record-breaking deal with Facebook. Walker can teach us all a few lessons about using social media effectively.
She now embraces the concept of " storytelling to scale," which differs from the more traditional approach of aiming for " big wins" and grand campaigns. Instead, Walker strives to make her campaigns " much more local, more authentic." To that end, she gives local markets the option to adapt messages and ensure that they reflect cultural and local interests.
Lesson #2: Remember the power of pictures.
When you think of National Geographic, you may think of all those old magazines stacked in your grandmother's basement. These days, the magazine is leading the way with its digital storytelling efforts. Case in point: the National Geographic Instagram account is the top non-celebrity account on social media, with over 25 million followers. And it's the only media brand along the 20 most followed accounts.
According to AdWeek, approximately 75% of followers are millennials, and there's a follower in every country on the planet. In short, NatGeo is more than keeping up with the Kardashians.
Each image on NatGeo's Instagram account represents its own story, and the images collectively offer a story of our natural world. The stunning photographs remind us that images hold tremendous power — and that sometimes words really aren't the best way to tell a story.
Lesson #3: Seek opportunities to elevate the ordinary.
GoPro has turned the action video into an aspirational art form. But YouTube user brazilliandanny used his GoPro to capture something much more mundane: his ordinary day working at a real estate office. The parody video has proven immensely popular since it was posted in April, 2015, and it has over 3,230,000 views so far. It even made an appearance in AdWeek.
Why so popular? So many of us can identify with the monotony of brazilliandanny's routine, yet he's presented it in a fresh way that (almost) makes it look fun.
We also love the video because brazilliandanny follows so many rules for producing high quality business casual videos. For example, he waited until most people were gone, so that he wouldn't have to compete with background noise and interruptions … and because " My worst fear was walking into the bathroom with a gopro [sic] on my chest and seeing someone at the urinal like 'WTF dude?' "
Lesson #4: Dive deep with long-form content.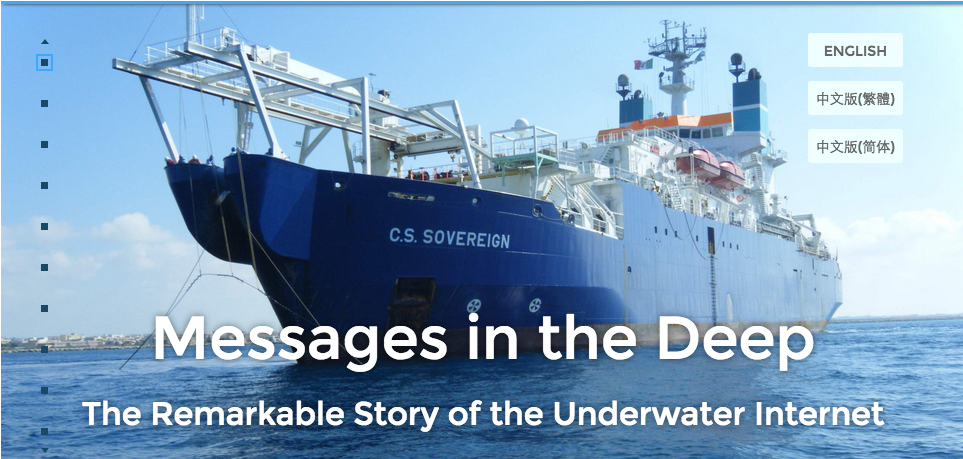 Who knew submarine cable could be sexy?
Messages in the Deep explores the surprisingly fascinating history of submarine cabling, from its antecedents as a tool for espionage, to its current role as the host of 95% of the internet. The interactive piece integrates pictures, video, an interactive map and even " A Word to the Mermaids." Messages in the Deep took half a dozen team members about three months to research and complete.
But the project perfectly illustrates why long-form content is worth the investment: it sparked conversation all over the internet, from the Daily Mail to Trajectory magazine. The interactive map now even appears in the Carleton University MacOdrum Library's online catalogue.
Messages in the Deep not only proved engaging, but it also incorporated content that has proven quite useful. Such utility should be a central goal as you build your own content and resources.