While all companies stand to gain from joining the largest professional network online, Forbes says that LinkedIn is especially powerful for B2B companies. Unlike Facebook, LinkedIn is designed for professional connection. Many professionals will turn there first when looking for credible companies who can meet their needs.
Still not convinced? Consider this: In 2013, LinkedIn was preferred 29% of the time for social login on B2B company websites, trailing Facebook by just 4%. Plus, a whopping 13% of LinkedIn users don't even have a Facebook account. That's 49.4 million potential customers that you cannot reach through your company's Facebook page.
For reference, check out the difference between Google's Facebook and LinkedIn pages.
Here's the Facebook page:
Notice how Google's " about" description is short and quippy. The focus is on the company's updates — the news feed — rather than the brand itself.
Now, take a look at Google on LinkedIn: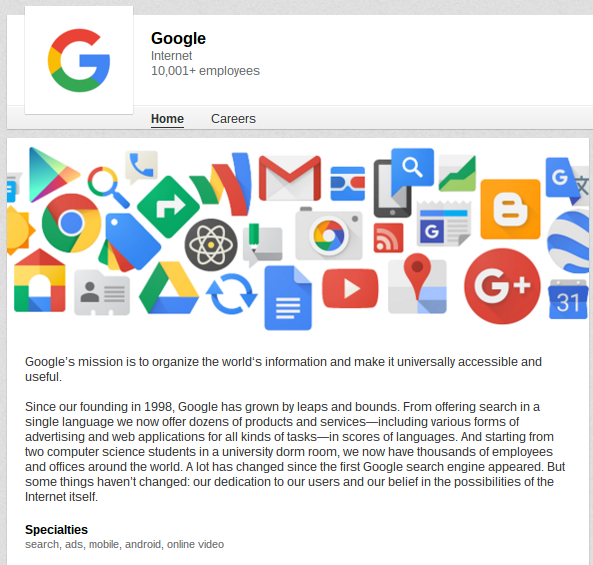 Here, Google has included a detailed, mission-oriented " about" statement. They've chosen a less whimsical (but still branded!) cover image to represent themselves to the professional world. Notice, too, that they include " Specialties" — these are keywords that you can associate with your company in order to rank in the search listings for these keywords.
What Are the Advantages?
Drive traffic.
You can beef up your profile with branding, links, products, press releases, blog posts, and more, all of which will feed back to your website. If you can meet your potential customers where they are — on LinkedIn — they are much more likely to follow you back to your site.
Get reviews and testimonials.
Within the Products and Services section of your business profile, customers can choose to write reviews of your products and services. Once published, these reviews are yours to use as you please — on your website, marketing collateral, or even business proposals. Forbes recommends soliciting these reviews from your customers, perhaps through an emailed link or strategically placed call-to-action.
Don't pay for it.
That's the most glorious thing about LinkedIn's business profile feature: It's free! Why not take advantage of this service that could increase your reach beyond the informal engagement that takes place on Facebook and Twitter?
How Should You Use It?
So you're convinced that you need to create a LinkedIn company page. But how do you do it?
LinkedIn is like any other social media outlet: You should deliver engaging content while letting your brand's voice shine through. Here are three best practices for upping LinkedIn's value to your customers — and, by extension, to you.
1. Fill out your profile — completely.
If you view Google's LinkedIn page, you'll notice that they have filled out their profile 100%. Nothing is left out. No fields are left blank. On LinkedIn, this is important. When your profile is completed at 100%, the picture of your company is complete — and credible to your professional audience!
2. Post, and post well.
DMR's research indicates that it takes 20 posts on LinkedIn per month to reach 60% of your audience. But it's worth it; posting increases audience engagement with your brand, especially if you balance promotional material with high-value content for your audience. What's more, it doesn't have to be hard. You can link your business' Twitter and Facebook accounts to your LinkedIn page, so posts appear automatically.
Further, LinkedIn's targeted updates feature allows you to change the visibility of individual posts according to viewers' company size, industry, geography, seniority and more. Maximize your impact by targeting your potential customer with precision, which may very well complement your content strategy for newsletters and other campaigns. Easy!
AddThis has even publishd posting primetime data, so you know when to post for peak engagement. In 2015, the best time to post on LinkedIn is Mondays from 2pm – 4pm EST.
3. Showcase new products and services.
Here's an example of one of Google's " Showcase" pages for one of its new projects, Think with Google.
As you can see, this looks almost like Google's LinkedIn page, except that it's geared toward one particular product line or service. These pages are linked to your main business page, but users can follow them individually to receive updates that are more relevant and engaging to them. You can use these pages to easily segment your audience and build interest in new products or services you offer.
So, is LinkedIn an important part of your business' social media strategy? Absolutely. Internet guru Lewis Howes even declared, " If I were forced to choose between using only one social networking site for my business, … I would choose LinkedIn, hands down."
Howes and 94% of other B2B marketers are doing it. You probably should, too.
As a social media marketing agency, we know quite a bit about LinkedIn marketing. Leave a comment and we'll help you decide if LinkedIn is right for your business!