Attending content marketing conferences and seminars has become an essential part of professional enrichment. Participating in these industry events is a great way for you and your team to stay ahead of the curve, learn the hottest industry trends and practices, and meet like-minded professionals.
To help you choose the right event, we've prepared another list of "conferences you can't miss," so take a look at these awesome events and get ready to pack your bags!
1. Content Marketing

Conferenc

e

2017
April 11-13 in Boston, MA
Cost: $1,449 all-access pass (Group discounts available)
Perfect for: Content strategists and social media marketers
Unlike other top marketing conferences, Content Marketing Conference 2017 is aimed squarely at content strategists and creators. Taking place in Boston, the capital of content marketing revolution, this year's event promises to show how content superpowers can defeat the enemies: bad, useless and boring content. Speakers include content superheroes such as Travis Wright, Ron Tite, Larry Kim, Neal Schaffer and Chad Pollitt.
2. Social Media Strategies Summit 2017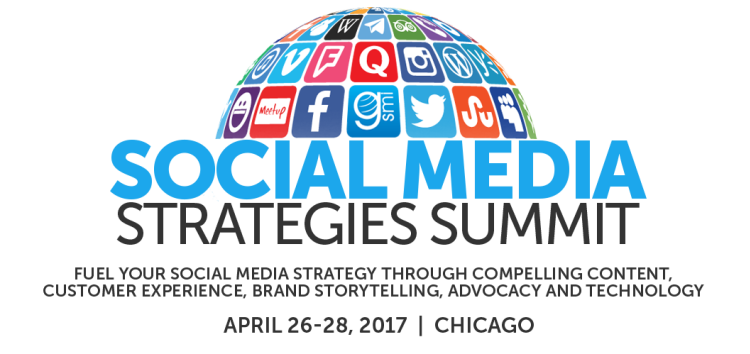 April 27-28 in Chicago, IL
Cost: $1,599 all-access pass (Government and nonprofit pricing available)
Perfect for: Social media marketing strategists, e-commerce marketers, content creators and communications professionals
Purportedly the longest-running social media event in the United States, Social Media Strategies Summit covers the gamut of social media marketing: strategy building, content creation, compelling storytelling, campaign monitoring, data analytics and beyond.
Attendees will take part in hands-on activities; learn about real-life case studies; and hear from the likes of GE Digital, The Walt Disney Co., Nestle, Coca-Cola, The World Bank, HP, Kraft Heinz, Toms, etc. If you can't make it to this one, plan on attending the SMSS NYC, their east-coast conference in October 2017.
3. SEJ Summit
May 11 in Chicago, IL
Cost: $505 (Early-bird discounts available)
Perfect for: SEO professionals, digital marketing managers and content strategists
For SEO lovers who don't have two or three days to invest in a conference but still want to learn from industry superstars, Search Engine Journal has created an excellent alternative: SEJ Summit, a one-day event designed to provide a ton of info in a short time.
Attendees can choose from two tracks with 18 industry experts, two AMA-style panels, eight Q&A panels and two keynote presentations. Sessions will cover a broad range of topics, including on-page SEO, content strategies, technical SEO, content optimization and link building.
4. Incite Marketing Summit 2017
May 23-24 in San Francisco, CA
Cost: $2,195 (Early-bird discounts available)
Perfect for: Marketing professionals, directors, content strategists, CEOs, CMOs, CTOs and VPs
Incite Group combines three in-depth conferences (Personalization, content and storytelling, and marketing attribution) into one large event — the Incite Summit. This year, more than 60 major U.S. and global brands (Intel, Uber, Sears, Mozilla, MasterCard, Johnson & Johnson, NFL, Twitter, Pandora, and many more) will be speaking at Incite.
5. MozCon 2017
July 17-19 in Seattle, WA
Cost: $1,549 general admission (Moz subscribers and group discounts available)
Perfect for: Social media managers, digital marketing and SEO strategists, content creators and marketing analysts
Analytics giant Moz is putting on its annual must-attend event, MozCon 2017, which offers case studies, success stories, best practices and actionable tips.
Your three days at MozCon will be packed with in-depth SEO info, big data and content strategy sessions, marketing data analytics and social media marketing discussions — not to mention open bars, billiards, bowling, karaoke and other networking activities.
6. Content Marketing World 2017
September 5-8 in Cleveland, OH
Cost: $2,395 all-access pass (Early-bird discounts available until June 2017)
Perfect for: Marketing and PR professionals who plan and/or execute content marketing initiatives.
Presented by Content Marketing Institute, Content Marketing World 2017 has been branded as "the largest content marketing event on the planet." This year., CMI is hosting more than 4,000 marketing practitioners and content marketers from over 70 countries.
7. Inbound 2017
Sept. 25-28 in Boston, MA
Cost: $1,699 all-access pass (Early-bird pricing available)
Perfect for: Marketing, sales, and services professionals
Inbound, founded and organized by the inbound marketing pioneer HubSpot, is one of the world's best and biggest marketing gatherings. According to HubSpot, 19,000+ marketers registered for the event last year, including aspiring content marketers, inbound marketing agencies, inbound sales professionals, agency account managers, inbound marketing evangelists — and HubSpot customers, of course.
This conference always features keynote and breakout sessions from some remarkable speakers, inbound marketing leaders and A-list entertainers. Think Alec Baldwin, Anna Kendrick, Ta-Nehisi Coates, Reshma Saujani, Aziz Ansari, Chelsea Clinton, Brene Browne, Seth Godin, and Amy Schumer, all of whom spoke at past events.
8. B2B Marketing Forum 2017
October 3-6 in Boston, MA
Cost: $2,795 all-access pass (early bird pricing available)
Perfect for: B2B content marketers
Need to know more about B2B content marketing? Or just wondering what marketing tools and strategies you can implement to boost your business growth? The folks at MarketingProfs have been hosting B2B Marketing Forum every year since 2007 for curious marketers just like you.
The event brings together B2B marketing practitioners, content creators and industry experts to talk about conversion, content creation, optimization, lead generation, SEO and other B2B marketing strategies. This year's event features three keynotes, four intensive workshops and 49 sessions.{{cta('cb5742ac-a8c8-422a-811a-aee5e6717be7')}}