Gone are the days of hiring developers and programmers to build your own native mobile app. Now, other developers and programmers have spent their time and talent creating tools that cut out the middle man. These do-it-yourself native app-building platforms can save you serious time and money — if you choose the right platform that fits your budget and feature requirements. We explore three app-building giants and how they might meet your DIY app needs.
1. Mobile Roadie
One of the most straightforward platforms on the market, Mobile Roadie offers basic, customizable templates and pre-made sections that can be manipulated for many typical app uses. The platform revolves around a WordPress-like CMS, mostly based in categorized and sub-categorized posts that act as events, articles, news feeds and media pages.
Mobile Roadie's simple app-building CMS encompasses tools for building, design, management, audience engagement and post-publication analysis. 
Advantages
The biggest draw to Mobile Roadie's DIY app-building platform is that it's easy to use. It's Build, Design, Manage, Engage and Analytics sections cover all the bases for developing, updating, and monitoring your app. No external analytics program needed.
A Mobile Roadie subscription also comes with a preview app that can be downloaded onto any device. The preview behaves just like the live app and may be downloaded unlimited times by members of the project.
Further, the platform includes limited-view CMS logins for clients or employees, allowing them to view or change pieces of the app as necessary without giving them free reign to mess up your precious creation.
Pricing
Mobile Roadie offers three levels of app-building accounts, billed monthly or annually. The most basic CORE account grants access to all the tools needed to build and monitor a native app on iPhone or Android for $149/month or $1499/year. The PRO account includes all this plus a range of advanced features including deep content organization, UI customization tools and custom design.
2. ShoutEm
A step up from Mobile Roadie in design complexity, the ShoutEm app-building platform is still user-friendly and customizable. Based on templates and pre-made app sections, the platform allows for so many customizable elements that your end product probably won't resemble its parent template at all. And the best part? No knowledge of HTML/CSS required.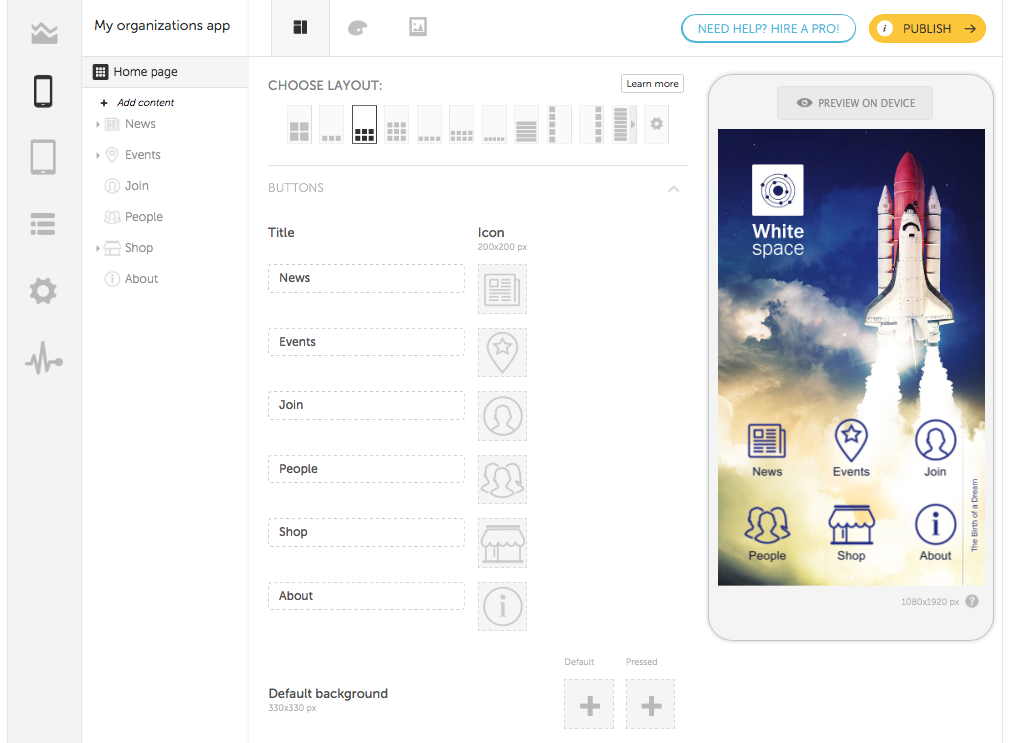 The ShoutEm app-building CMS is a sleek interface with detailed customization options.
Advantages
ShoutEm's stand-out quality is that it's fun to use. You can even try it out on a sample app before you sign up — but you'll find that it's a lot more like dragging and dropping elements onto a PowerPoint slideshow than building an app. The customization options are seemingly endless, and the content management is on point.
Like Mobile Roadie, ShoutEm includes access to a native preview app on mobile and tablet to view changes as they occur. Unlike Mobile Roadie, the platform includes integrated sections for promotions or special deals, audio or radio streaming, QR code reading and books. ShoutEm also includes an advertising capability to monetize your app.
Pricing
A unique feature of ShoutEm's account options is its basic plan: For $19.90/month, you can use its DIY app-building platform to create a mobile web app — dodging the fee for native iOS or Android publication. Though you won't get a native, downloadable app this way, your HTML5 app will have all the features available in the ShoutEm app-building platform and be available to your users on the web.
If you do need a native app, the $49/month advanced plan or the $119/month unlimited plan (with API access / data sync) will cover everything your app needs to be published to the Apple and Android app stores.
3. Mag+
Mag+ offers two main toolsets — Designd and Semble (in development) — that allow users to publish app content across a variety of media, such as digital magazines, news applications and more.
Designd is an Adobe InDesign plug-in, created specifically for mobile publications. According to their website, Semble looks like it will be a more traditional DIY app-building platform, with drag-and-drop capabilities and an online interface. It's worth keeping an eye on — but Designd is the tried-and-true champion in this lineup.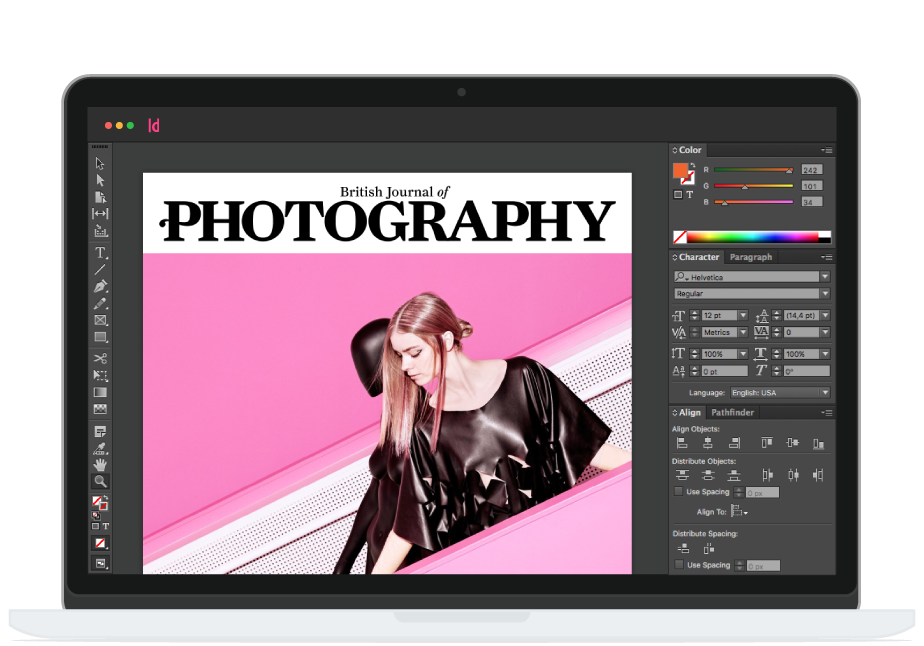 Mag+'s DIY app-building platform, Designd, allows you to create apps in InDesign and preview them live on your mobile or tablet. 
Advantages
One of the coolest things about Designd is that you can create an app with all the usual tools you use for designing any other piece of content, right in InDesign. This means that your designers can produce at the same level of quality and customization as all of your other assets, limited only by the InDesign platform and their own imaginations.
Further, Designd's mobile-preview function allows you to watch the InDesign edits live on your device — leaving no room for translation errors between your desktop and mobile screens.
Pricing
With Designd, you pay for app publishing only. This means that you can use the InDesign plug-in free for as long as you like, paying only once your app or apps are ready to go.
Once you are ready to publish, you have several options. A single one-time app publication costs $999 flat — no subscription needed. But if you're planning on updating your app, or publishing multiple apps, you might need one of the pricier monthly plans. A Multi account allows you to update one app unlimited times for $499/month, while an All Access account-holder may publish up to 10 apps unlimited times, with access to Mag+'s app creation and submission service for $2999/month.
{{cta('6ba46325-fce4-4f52-9e2b-ade477c5ee7b','justifycenter')}}