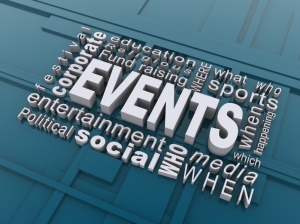 Companies and associations that produce annual meetings, conferences and other events are sitting on a treasure trove of highly shareable content. They can mine events for content to promote overall brand awareness and drum up interest in next year's event. The key is defining customers' pain points — what problem are they hoping to solve? — and offering content that explains why your service, product or event is the solution.
Don't be afraid to give information away for free: Valuable content helps customers overcome objections they may have (about price, for instance) by helping them understand the return on investment they'll receive. With this in mind, here are four types of content that can be easily sourced from events:
Audio and visual recordings. This is what founder of the Content Marketing Institute Joe Pulizzi calls low-hanging fruit. If you do just one thing, record and/or film the sessions. Organizations spend a small fortune bringing well-known speakers in; not recording their talks means leaving money on the table. Video clips and audio snippets can be published online via YouTube or other video platform, or used as a podcast episode. The full-length recordings can be sold, either as a supplement to those who attended or a substitute for those who could not.
Slides/speaker handouts. Speakers at smaller breakout sessions love to use PowerPoint slides and printed handouts — why not make those available for everyone? This type of information doesn't come close to being a substitute for the real thing, but it's easy to distribute and potential customers will appreciate the value add.
Blog posts. Here is your chance to get really creative with content. From pre-event buzz to real-time coverage to post-event wrap-ups, events are an excellent starting point for blog posts. Featured speaker Q&As, roundups of key takeaways from popular sessions, a summary of the keynote speech, a behind-the-scenes look at the setting up of the event — these are all prime subjects for blog material. If you don't have a staffer dedicated to blogging, or just want a different take on things, many bloggers will attend and live-blog events in exchange for complimentary or reduced admission.
Live Tweeting. Did you set up a hashtag for your event? If so, be sure to use it in every single tweet — leading up to, during and after the event. Delegate one person on staff to handle social media, including interacting with Twitter audience members that use the hashtag. Set up photo templates of speakers beforehand; when they say something witty and quotable type it into the template along with the speaker's Twitter handle. Other tweetable moments include photos of attendees, re-tweeting positive responses to the event, and video clips of the keynote speaker (a good option for post-event coverage). Ask Twitter followers what has been their favorite session so far.