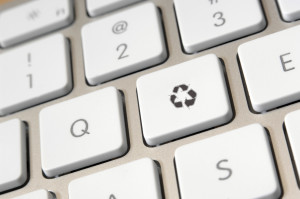 Content marketing is an investment — of time, of money, of creative brainpower.
Wouldn't it be great if you could maximize your resources to get multiple uses out of each piece of content? Repurposing ideas for different formats and distribution channels can result in cross promotion and a larger audience reach. Here are five ways to repurpose content to get the most of of your content marketing strategy.
1. Slide decks.
Outlines (of white papers, case studies, e-books, etc.) make great bullet points for slideshows. Your sales team can use these during pitch meetings or as an online presentation. Use SlideShare for the task and you've got an instantly shareable piece of content for LinkedIn.
2. Infographics.
Visuals are a powerful way to stay top of mind: Research conducted by psychologist Jerome Bruner of NYU suggests that people retain 80 percent of knowledge gained through what they see and do, but only 20 percent of what they read. Start by distilling slideshows to facts and stats — or go with a "How To" or "Do's and Don'ts" blog post — then have a graphic designer retell the story visually.
3. Podcasts.
If you have a writer working on a white paper, case study or long-form blog post, chances are, they're going to interview internal subject matter experts and longtime clients during the research stage, and they're going to record those conversations. With participants' permission, use sound bites from the interview to piece together a podcast episode, or hire a professional voice over talent to read and expound on selected passages from the written content. Some of your audience members may be auditory learners or simply crunched for time and looking for something they can listen to (rather than read later) on their commute.
4. Scripts for videos.
Traditional case studies aren't going away (prospective customers still like to skim text for key points) but video case studies can help you share content through different channels (Blip.tv, Daily Motion and YouTube). Use the written study as a narrator's script and/or research for a film version. Not sure video is the way to go? Read up on why video is an essential part of content strategy.
5. Tweets.
Finally, ask your writers and bloggers to submit a 140-character teaser with each piece of content so that you can easily promote it via social media. (Better yet, have them keep it under 140 characters so that it's easily re-tweetable.) That's one less thing your social media team has to worry about in their quest to tweet 14 times a day.