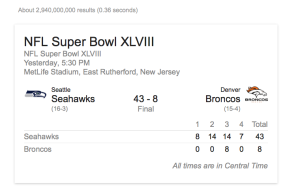 For the past few years, SEO has meant a battle between brands and publications trying to score enough points to put themselves at the top of search results. Ultimately though, no matter how smart a brand is, few have proven to outsmart Google.
When it comes to the hub of online conversations, Google is king. It knows what people are talking about and it uses that knowledge to deliver the best results for its audience. For Super Bowl 2014, it did that once again.
Since 2011, news sites such as the Huffington Post, Time and the Washington Post have battled for the top spot in search results for the frequently asked question, "What time is the Super Bowl?" This year however, even though many websites still jumped aboard the "What time is the Super Bowl?" train, Google made those articles nearly irrelevant, at least in SEO terms. When searching the question, " What time is the Super Bowl?" Google delivered all the important information about the event at the top of the search page, making it so that users didn't have to click any additional links to access the information.
Of course, it's still possible to stay ahead of highly intuitive Google when it comes to delivering frequently sought-after information. If you do a search for "Who won the Super Bowl?" as of February 3, 2014, the search engine still says it was the 2013 champs — the Baltimore Ravens.