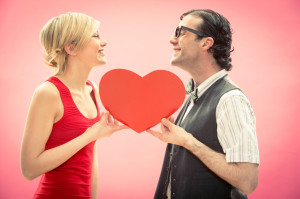 How do you make someone fall in like with you?
Think about the last time you really wanted to make a good impression. Take a first date, for instance. You want the person to like you enough to go on a second date, and maybe even more from there. The approach that you'd take in this situation is the same approach that you should be taking in your content marketing strategy.
To better explain, we'll walk you through a first date/content strategy explained with the four P's (because everything is better as an alliteration): Prepare, present, participate and pursue.
1. Prepare.
It's unlikely that you would roll out of bed and head straight to a fancy restaurant to meet someone for a first date. You want to take some time fixing yourself up so that you look presentable enough to make a good impression. You might also prepare by doing some research on the person beforehand, by checking out out their Facebook page or doing a Google search. Identifying their likes and dislikes will help you engage in better conversations, which will result in a more successful date.
This is exactly what you or your digital marketing agency need to be doing in stage 1 of your content strategy. Before you start reaching out to potential customers, make sure the image you are presenting, online and off-line, is something that you are proud of and something that would make an audience take interest.
Next, research your target audience to find out what kinds of conversations they're having. This will help determine the best ways to interact with them.
2. Present.
You've spent time preparing for the date, and now it's time to head to the restaurant and present your best self to the person. Your stomach is in knots, because you know that first impressions mean everything, and you don't want to screw up. You want to appear confident, friendly, personable and authentic, all without seeming like you're trying to hard. Same goes for your content strategy — It needs to be attractive, but natural.
Gone are the days of shoving your product in people's faces and listing all the descriptors that will entice them to buy. You need to be delivering content that will peak your audiences' interest. If you are unsure whether or not they will be interested in something, ask yourself, is this something that my customers would want to share with their friends? If the answer is yes, then you're likely presenting good content.
3. Participate.
Even if you nail the prepare and present stages of the date, it can still be a dud if you're not able to engage with the other person. There are two key elements of engagement — talking and listening. Several brands are great at the talking part, but fail when it comes to listening to the conversations that their customers are having.
The listening stage is crucial because that's where you'll find the best opportunities for new content and conversations. Actively listening and responding to your customers' also makes them feel valued and appreciated. Just like on a first date, you need to make the other person feel like you're as interested in them as you hope they are with you.
4. Pursue.
You just had a great first date, so what's next? If you never reach out to the person again, that could be the end of the relationship. You know that relationships of any sort take effort, and so you pursue the person by continuing conversation with them through text messages, emails, phone calls, and of course, more dates. Just like a potential partner, your customers also need to be pursued, or they might start checking out your competitors.
Continuing the conversation is easier than ever in the digital age. Some great ways to do this include weekly e-newsletters, updating your blog based on what your audience is most interested in, constantly engaging in social media and even hiring a digital marketing agency to take your content to the next level. However, even though you can easily gauge audience participation by tracking clicks and likes, don't completely abandon old-fashioned techniques like a phone call or postcard. These methods remind your customers that you're interested in engaging with them, even when they aren't online.
Effective content marketing is a relationship and should be nurtured as such. Developing a relationship-focused content strategy will help your customers see you as their most trusted source in the industry.
Don't settle for the "it's complicated" phase — you're ultimate goal should be to end up "in a relationship."