Focus on the content, not the channel.
We've been around the block a few times and seen a marketing department or two. Based on roughly two decades of experience working in these jungles, we've determined that many of them are still doing business the old-fashioned way: in creativity-stifling silos.
Sure, you'll find some other disciplines mixed in there, like a CRM team, graphics design team, call center and perhaps a video communications group and/or a photographer. But in general, you'll find these main silos pretty consistently across most marketing divisions.
We haven't worked with too many companies that have a huge social media division. Instead, social media is usually handled by whoever adopted social media tools on a personal level the earliest — you know, the self-styled social media expert/intern.
Marketing people are thinking about how to divvy up the company's ad spend this year. PR and/or Media Relations people are thinking about which stories to pitch to which reporters. Employee communications people are working with company leaders to filter messages. And the web team is busy making updates to various pages on the company website.
Everybody's doing their own thing — churning out work that falls within their comfort zone. Each person on the team has a "specialist" title: Marketing Specialist, Communications Specialist, PR Specialist, Web Specialist. More seasoned ones have "senior" preceding their title, while the younger members may be "coordinators" instead of "specialists."
In Content Marketing Utopia, though, content is king. By content, we're talking about stories. It looks like this: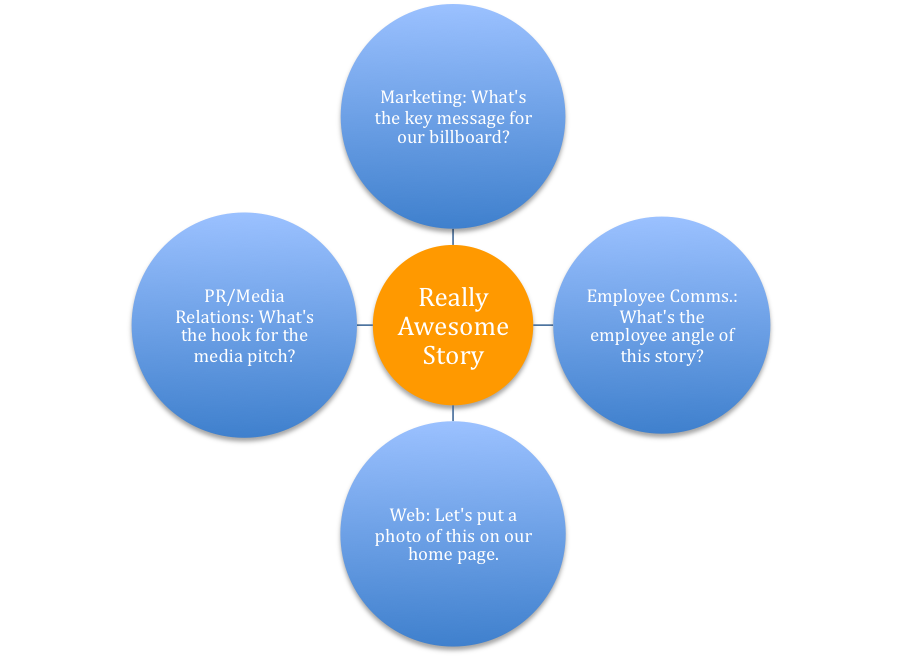 In this world, there are no marketing, PR, communications or Web specialists. Everyone is a content producer. They think of story ideas that should be covered. Those who have more marketing experience will then figure out how to use that story idea in marketing materials or advertisements. Those who're more comfortable writing for a publication may write the story for the employee or customer newsletter.
Whoever takes the lead on the story — that is, whoever's interviewing the sources and producing the content — should not consider the story complete until they've also written a few tweets or Facebook posts about it. When the timing's right, he or she (who should have administrator rights to your company's social media channels) should then post the story to the Facebook wall and twitter feed, tagging as many people and organizations as are relevant.
Now, we didn't say your marketing department re-org would be easy. It's quite the paradigm shift to stop thinking in terms of marketing or communications functions, and focus instead on the story.
But if you can move in this direction, you'll start getting a lot more mileage out of each story idea.
What are you waiting for? Call a meeting and start brainstorming story ideas.
(Big shout out to the Microsoft "SmartArt" function for these stellar graphics!)