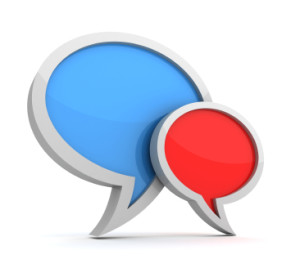 You have a vision for how you want your website, mobile app or print project to look. In your mind, it's fantastic. But in reality, you need the help of a freelance graphic designer or digital marketing agency with graphic designers to make it all come to life. They speak the language of picas and sans serif, and you speak the language of, well, normal words. So how do you get across what you want? Follow these six suggestions:
1. Have a thorough conversation before a project starts. It's easier to stay on the same page when you start there to begin with. Explain your expectations to the designer and give him a chance to ask you as many questions as he needs to in order to understand what it is you're after.
2. Use examples. Find a number of examples of the look you want. Try to pinpoint what it is about certain layouts that appeal to you. Maybe you like the navigation bar on one website and the color scheme on another. Even if you can't quite put your finger on what draws you to something, just having a collection of samples that resonate with you will be a big help in designing something you like.
3. Prioritize your wants. Is beautiful more important than informative? Is a fast loading time more important than fancy graphics? Is space for lots of words more important than space for lots of pictures? Ideally, you'll be able to get everything you want in one package, but sometimes sacrifices have to be made. You should know what you're willing to compromise on and what's a deal breaker.
4. Communicate the purpose of the design. Are you trying to elicit a certain emotion? Make a soft sell or a hard sell? Drive people to a specific action? Whatever your end goal is, convey that to the designer. The colors, fonts and other elements should all reflect your ultimate purpose.
5. Be specific with feedback. As the design starts taking shape, describe what you do and don't like and offer details about why. A vague idea that something's "missing" or "not quite there" makes it tough for the designer to know what to change.
6. Let the designer do his thing. If he gets off track, by all means say something. Just make sure you're not hovering at every step of the process — sometimes the kitchen's a total mess when you're in the middle of cooking a meal, or the rough draft of a story doesn't necessarily correlate with the quality of a finished product. If you've hired an expert graphic designer and kept the lines of communication open, you're likely to get something great in the end.