The tools and technology of marketing are constantly evolving — even seasoned pros could learn a new trick or two.
Podcasts, in their easily digestible format, are perfect for quick lessons on the go. The next time you're on a plane, train or automobile (the average American spends 25 minutes traveling to work each day), or just find yourself with downtime, check out these 10 audio goldmines:
1. The $100 MBA Show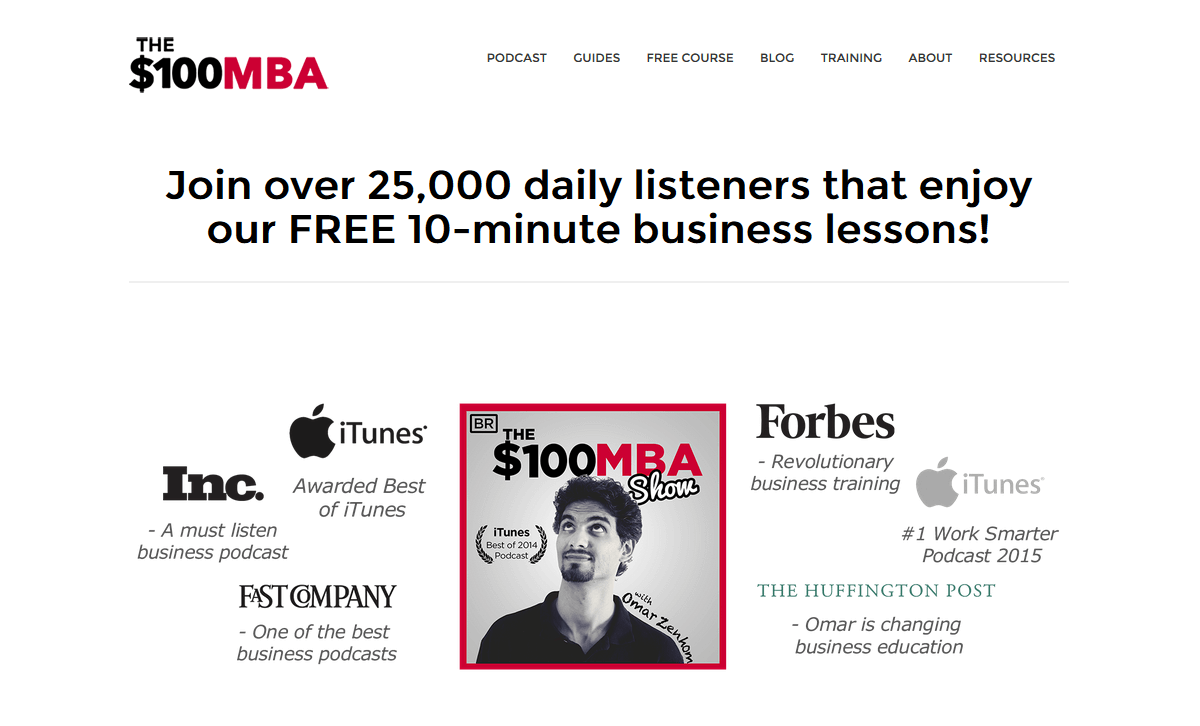 5 stars, 379 reviews
Winner, iTunes Best of 2014 Podcast
Hosted by business coach Omar Zenhom, this show values your time: Each episode packs branding, sales, marketing and general business insight into just 10 minutes.
Zehhom's take on managing time efficiently, knowing when to quit, and the "three tasks you should do every day" are top hits. Listeners say the show's moniker is an understatement, that you "couldn't afford the tuition for any school that actually taught" everything contained in this "daily masterclass." 100mba.net/show
2. Social Media Marketing with Michael Stelzner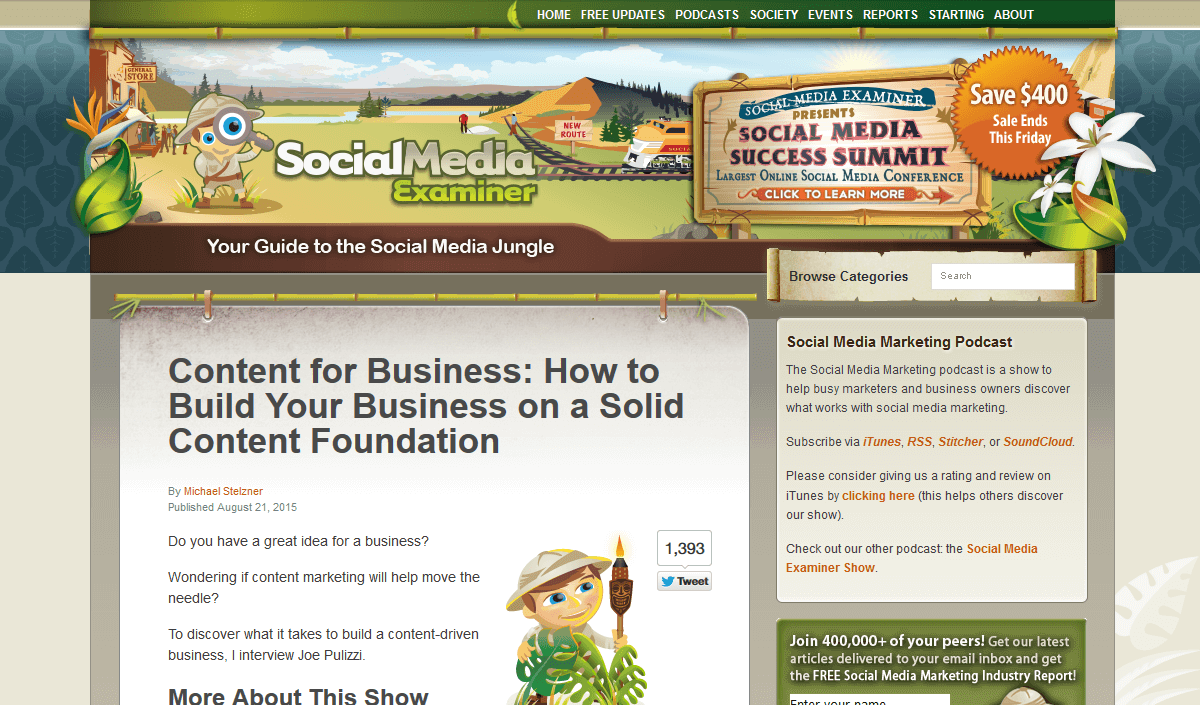 5 stars, 446 reviews
Social Media Examiner's Michael Stelzner shares case studies and conversations with social media marketing agencies and pros in this highly ranked management 'cast. Notable guests include world-renowned marketing guru Seth Godin; five-time bestselling author Rohit Bhargava; and Ted Wright, author of "Fizz: Harness the Power of Word of Mouth Marketing."
Fans say SMM is "jam-packed with actionable advice" on all the "new pieces of the ever-growing social media puzzle." socialmediaexaminer.com/podcast
3. Marketing Optimization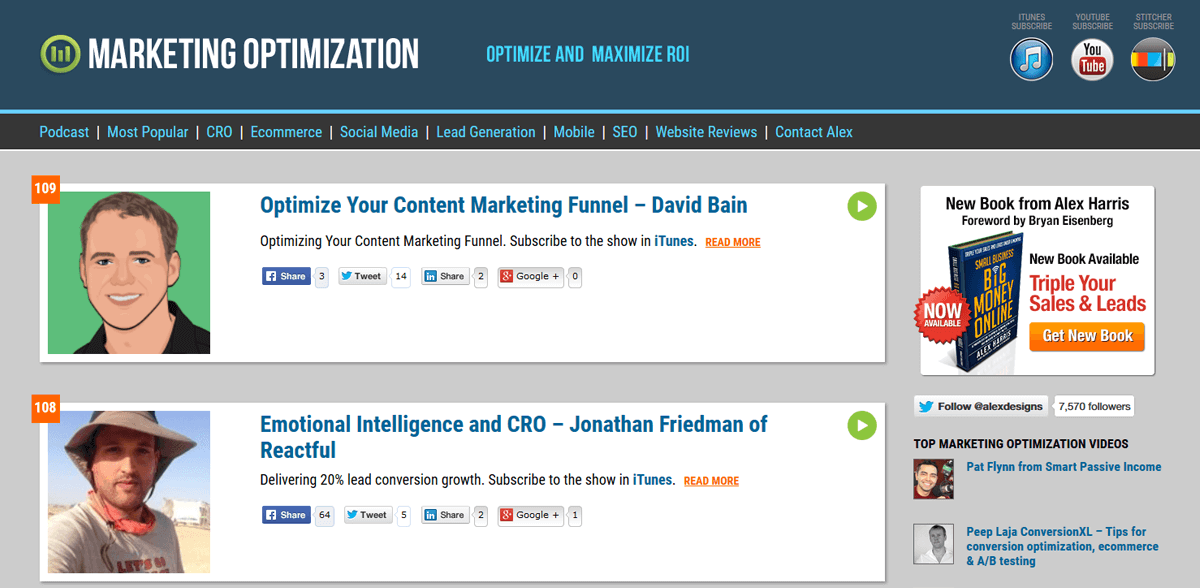 5 stars, 195 reviews
All about maximizing website ROI, this show tackles tricky issues like conversation rate optimization, content and digital marketing and web analytics. Popular episodes include No. 037, with guest Pat Flynn explaining how he earns $50,000 monthly from his Smart Passive Income website and podcast, and No. 054, digital strategist Barry Feldman on content marketing for conversion.
Want to see something different on the lineup? Host Alex Harris takes suggestions on guests and topics: tweet @AlexDesigns. marketingoptimization.tv
4. Social Zoom Factor with Pam Moore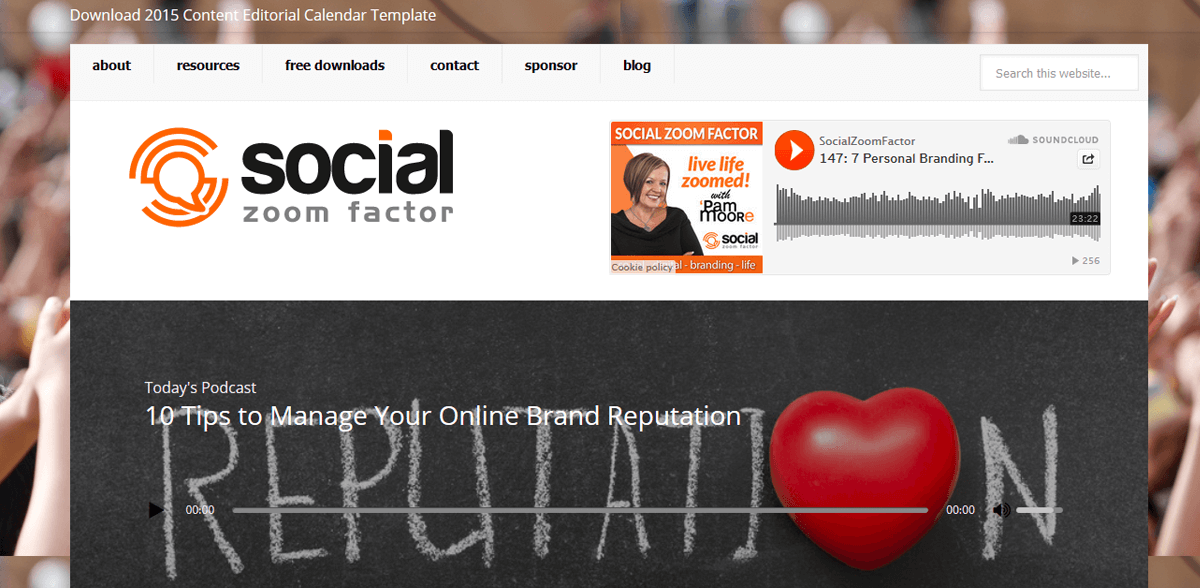 5 stars, 136 reviews
Made for small biz to enterprise-level marketing leaders, this audio resource publishes several times a week, covering experiential branding, event marketing and social media "barriers" with customers. Subscribers call this "100 percent authentic" podcast a "game changer," citing its "actionable strategies" and "valuable content" among their reasons for keeping it in rotation.
Host Pam Moore is the founder of Marketing Nutz and a Forbes ranked "Top 10 Social Media Power Influencer." socialzoomfactor.com
5. Smart Time Online with John Dennis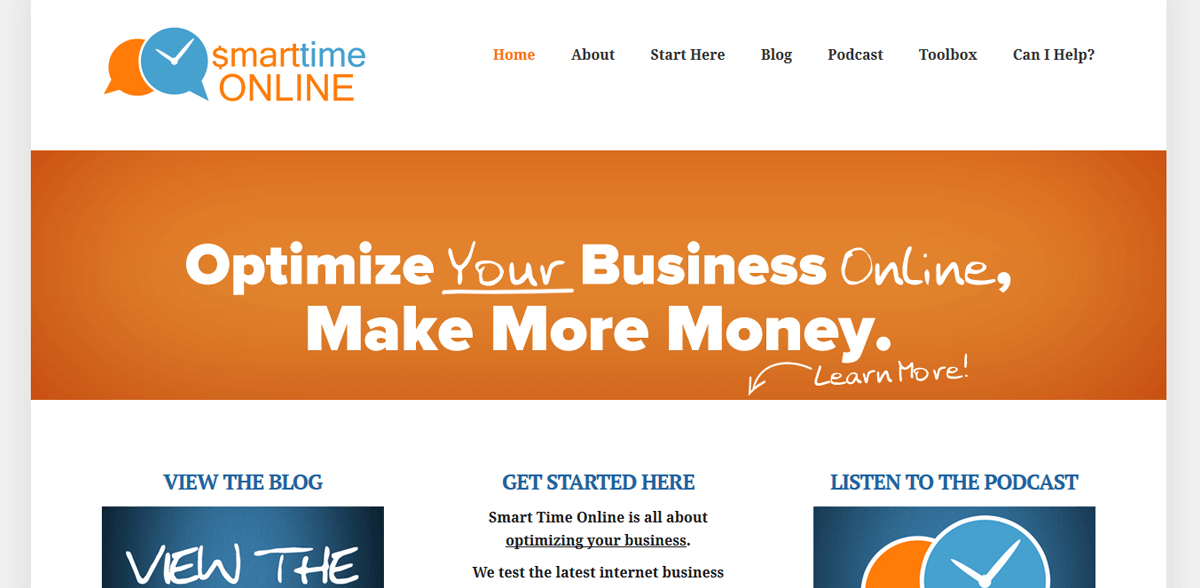 5 stars, 110 reviews
This show's goal is to save listeners time and help them make money by deploying "smarter digital marketing systems." Popular episodes have covered how to optimize Google Analytics, five way to improve your website today, and writing email subject lines that get opened.
Fans recommend Smart Time for its organized, detail oriented content with "lots of examples and supporting materials." smarttimeonline.com
6. Marketing Over Coffee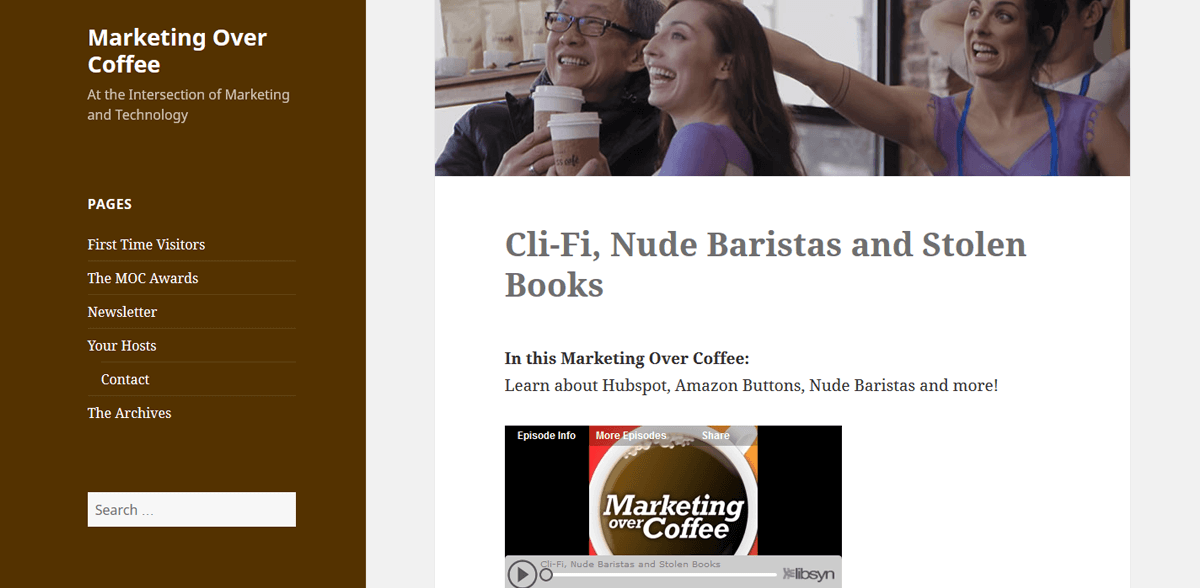 4.5 stars, 127 reviews
A weekly discussion hosted by John Wall and Christopher Penn, author of "B2B Marketing Confessions" and VP of marketing technology for Shift Communications, respectively, Marketing Over Coffee's guest list reads like a who's who of sales and marketing.
They've interviewed Seth Godin, David Spark of Spark Media Solutions, and Kerry O'Shea Gorgone, marketing and social media law expert, among others. Irreverently titled episodes like "Comb Over" and "Bones and Drones" touch on how to become a "lean, mean writing machine" and continuing education courses for folks in content marketing. marketingovercoffee.com
7. Social Pros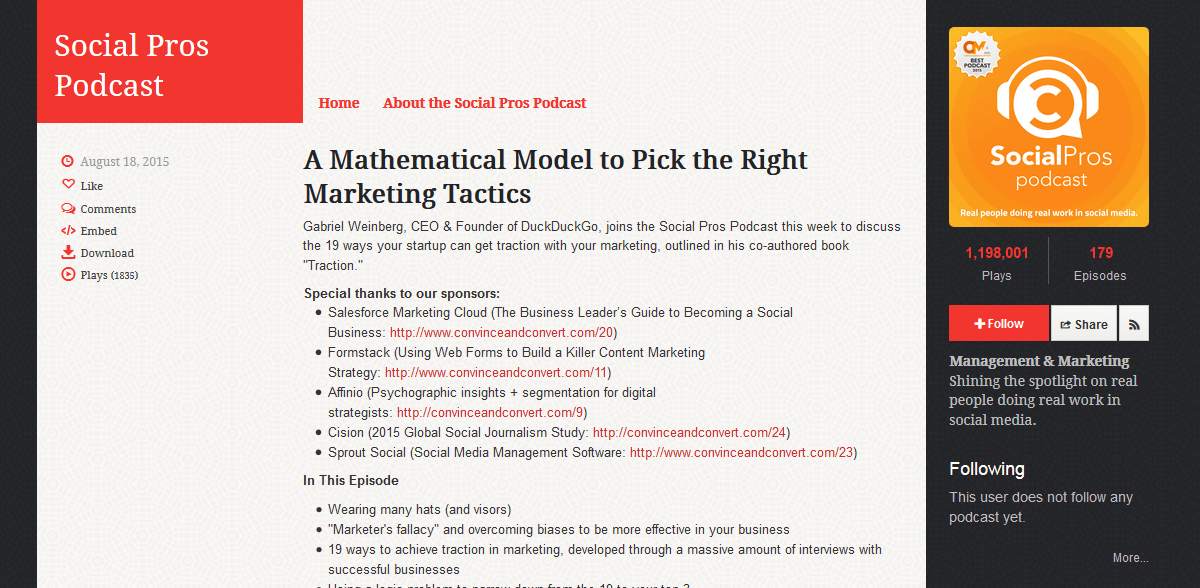 5 stars, 68 reviews
Ever wish you could sit down with some of the country's top corporate marketers? Social Pros provides weekly access to these "Real People Doing Real Work in Social Media," including such guests as Julie Hopkins, research director at Gartner; Jim Belosic, co-founder of ShortStack; and Paul Matson, head of content social media at Groupon.
Hosts Jay Baer of Convince & Convert and Jeff Rohrs of Salesforce also dissect the latest social media strategies being used by brands like Verizon, Whole Foods, JetBlue and Cabela's. socialpros.podbean.com
8. This Old Marketing Podcast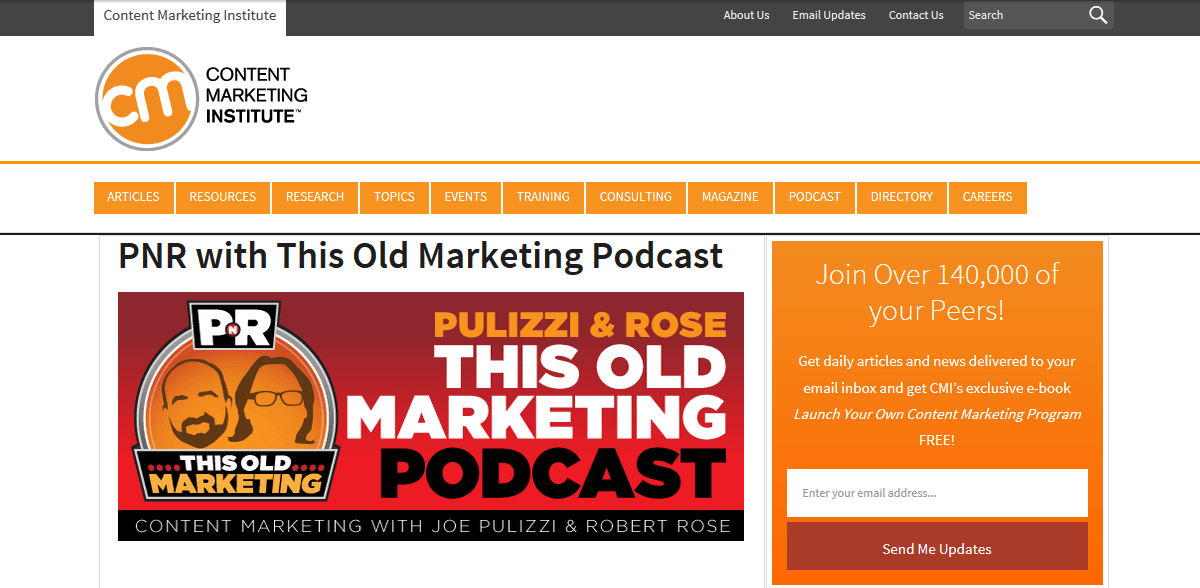 5 stars, 67 reviews
Hosted by industry vets Joe Pulizzi and Robert Rose, founder and chief strategy officer of the Content Marketing Institute, respectively, this show talks all things content marketing. Some of Pulizzi and Rose's best conversations tackle native advertising, the "new media model" and the "golden age" of marketing.
Listeners like the show for its "healthy debate" and "fun and interesting summary" of the latest news in content marketing. thisoldmarketing.com
9. Mobile Mixed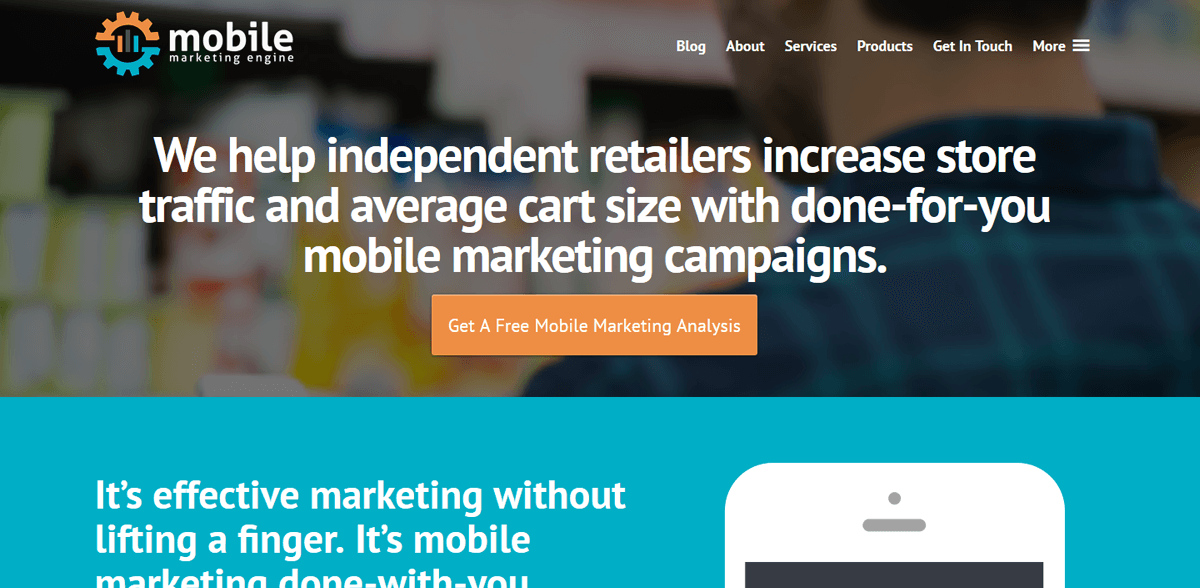 5 stars, 54 reviews
Check back here every week for short and sweet episodes filled with easy-to-implement tips and tools for mobile marketing. Host Greg Hickman, former head of mobile for retail giant Cabela's, explains how to reach customers wherever they are — via SMS and MMS, mobile apps, podcasts and more.
Listeners say Hickman provides "tremendous value" by providing access to the "very best" experts in the mobile marketing niche. mobilemarketingengine.com
10. On Brand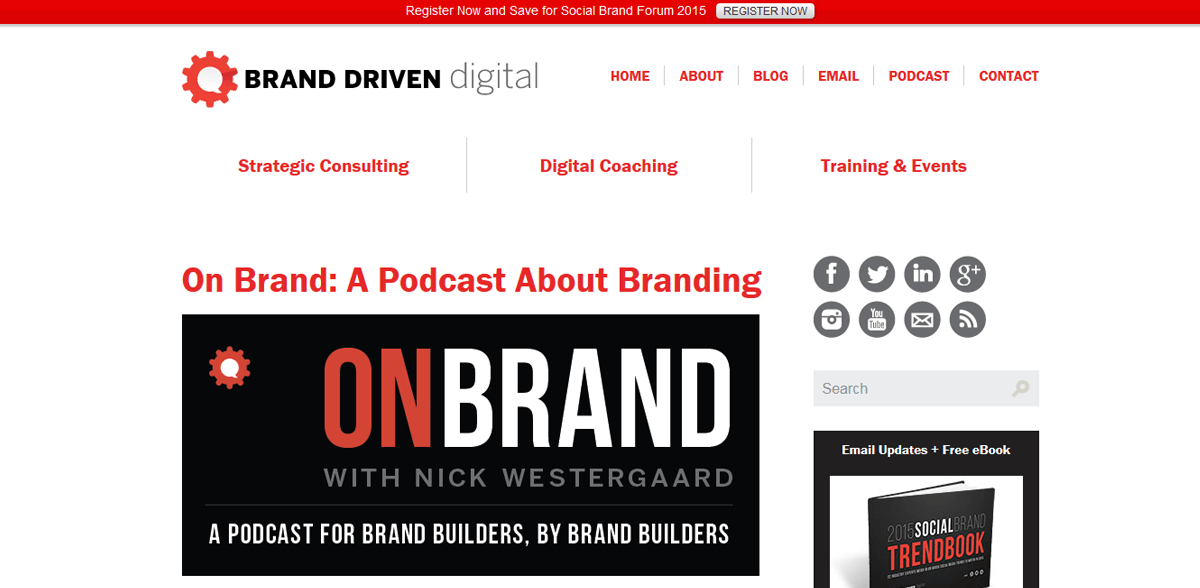 5 stars, 15 reviews
A new player on the scene, this weekly show for "brand builders" illuminates the "art and science of branding." Host Nick Westergaard of Brand Driven Digital speaks with such industry thought leaders as brand evangelist Guy Kawasaki (Apple, Android, Wikipedia), naming expert Marc Hershon, and Heidi Grant Halvorson, author of "No One Understands You and What to Do About It."
Expect smart, incisive questions and a listening experience that "will make you smarter," per this show's early customer reviews. branddrivendigital.com
Looking for more top podcasts for marketers? Check out marketingpodcasts.com for top-rated shows on content marketing, social media, inbound search and more.