(soon to be your awesome team)
The madison/miles media team is made up of top talent — award-winning journalists, designers, expert marketing strategists, SEO and social media specialists, experienced sales professionals and accomplished sales veterans.
But no matter what their area of expertise, every member of m3's team has one thing in common: They understand the power of great content and know how to use it to increase your audience, build your brand and increase your revenue.
To find out more about how that happens, check out our Awesome Solutions page.
In the meantime, meet our team of creative professionals.
Leadership
The awesomeness starts at the top, with founders
Adam Weiss and Mario Medina.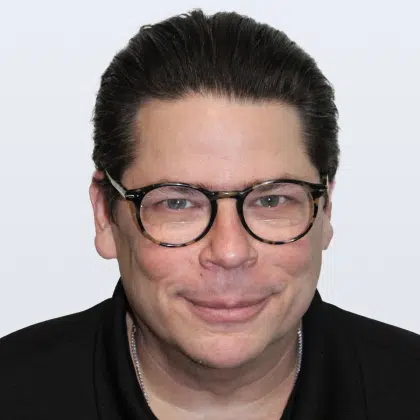 Adam Weiss
President, Co-Founder
Adam is a business development and sales-and-marketing expert who has spent more than three decades in the media industry. Thanks to Adam's expertise in both sales and sales enablement, m3 is uniquely qualified among digital agencies to grow your business with sales/marketing alignment — including lead definitions, sequencing, email templates, sales process development and more.
His experience helps bridge the gap that exists between marketing and sales in many companies and allows m3 to more effectively increase client ROI. He thrives on connecting quality content to audience engagement, ad revenue, and increased sales. Adam has launched and overseen ad sales into countless publications; launched and published digital magazines and annual directories; and developed new sources of ongoing advertising revenue for scores of clients.
Adam has been married for more than 30 years and is the proud daddy of a wonderful daughter. He enjoys art, sports and cooking (he's pretty sure he can beat Bobby Flay in a throwdown).
Mario Medina
Creative Director, Co-Founder
As a content-focused digital agency, m3 requires a leader who has a deep understanding of every aspect of content development and strategy. Mario is that leader. A communications veteran with expertise in content and brand strategy, journalism, content production and management and product development, he applies his high standards to every project, every client, every hire and every member of the madison/miles team. The results speak for themselves: raving clients, one of the nation's top digital agencies, and dozens of awards, including Folio, Magnum Opus, Telly and Pearl awards.
Mario has a wife, two kids, a dog, a cat and an unhealthy obsession with Batman.
careers
Would you like to do exciting work that you love alongside people you genuinely enjoy working with? We offer remote work, benefits and opportunities to grow your career with one of the nation's awesomest digital marketing agencies. (Yeah, we totally made up the word "awesomest.")