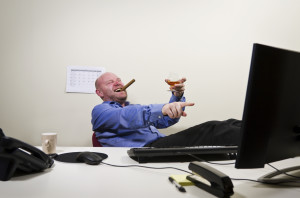 When it comes to social media for your business, there's a difference between being engaging and just flat out condescending.
The popular Facebook page Condescending Corporate Brand Page shares daily examples of companies that try a little too hard to get people to pay attention to them, usually resulting in the opposite effect of what they were hoping for.
If your brand engages in the marketing practices below, you might want to rethink your outreach plan. Otherwise you might end up as the next spotlight on CCBP.
Automated Customer Service. Time Warner Cable recently had a dilemma when a customer complaining about his bill on Twitter received an obvious automated response. While automation can be a great way to streamline social media engagement, if you're going to use it, use it wisely. Customer service should be personal and helpful, not robotic.
'LIKE' if You Think This Baby Is Cute. This is probably one of the worst ways to get your audience to 'like' you. With pages like TheFW posting images of infants with the caption "Like = cute, Ignore=Ugly," we have to wonder whether the person in charge of it is a marketing professional or a seven-year-old.
Not Doing Your Research. South Africa-based Turbovite made a huge mistake by posting a photo of Morgan Freeman with the caption "Let's give Mandela 95 likes for his incredible 95 years here on earth." After the company caught their mistake, they didn't delete it fast enough for it to escape CCBP, or the wrath of several angry followers. Basically, if you're going to use a deceased world leader for a few 'likes' on Facebook, at least make sure the image your using is actually him. Actually, just don't exploit dead people. Not cool.